This past weekend we officially celebrated one year as robotic dairy farmers. Our startup date is easy for us to remember, as it's also my Dad's birthday. I can't think of a better present than to not be still milking in the parlor, and we are definitely celebrating our transition to robotics.
It has been a year of learning with its ups and downs, but looking back at the past year, we are so very glad we made the switch. During that time, a few things have stood out to me that I thought warranted sharing whether you are considering robotics or in the transition yourself.
Prepare for the worst possible startup, but also remain optimistic that it will go well! I'm sure you've all heard or lived the horror stories of startup, it can definitely be a trying time for both dairy farmers and cows. We were very lucky to have an incredibly smooth transition, but I think it helped that we prepared for the worst. My biggest lesson from startup was to trust the cows. Be patient and don't be afraid to leave the barn. Go get that much needed nap and let your cows use their intelligence to figure the system out on their own. Once they do, it'll all fall into place.
Robotics and grazing can be a successful combination! One thing we weren't willing to leave behind when moving into our new barn was grazing our herd. Trust me when I say I've heard the comments that grazing in robots, can't be done. After only completing a single season, I can't say we have it all figured out, but we didn't totally fail either. One key to our success this past year was the pasture exit gate that doesn't allow cows that need to be milked to go to the field. We are looking forward to grazing again this year and finding more ways to make robots and grazing successful for our herd.
You will still find plenty of work to keep you busy with robots! The most common question I hear about our new system is, "Now that you have robots what do you do with all your time?" You can't install robots and walk away. It's simply a different way of milking the cows, but it still requires hands-on management. I am most enjoying the flexibility in our day that allows us more time for total herd management.
The first year truly did fly by! But it's been an amazing experience with our whole team on board. We are looking forward to continuing to learn and working toward our long-term goals for our herd with robotics.
---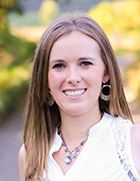 Darleen Sichley
The author is a third-generation dairy farmer from Oregon where she farms in partnership with her husband and parents. As a mother of two young boys who round out the family run operation as micro managers, Darleen blogs about the three generations of her family working together at Guernsey Dairy Mama. Abiqua Acres Mann's Guernsey Dairy is currently home to 90 registered Guernseys and transitioned to a robotic milking system in 2017.