I got my Valentine's Day gift from my hubby early this year.
It's not chocolate. Or flowers. Or jewelry.
It's cheese.
My most favorite cheese . . . the one I savor, nibble by nibble . . . is Sartori's Raspberry BellaVitano. I first met Raspberry BellaVitano at a cheese-sampling event and it was love at first taste. Two of my favorite foods . . . raspberries and cheese . . . married together into one tantalizing delicacy.
My hubby truly knows the way to my heart.
Cheese could be the way to win your Valentine's heart, too.
There are so many varieties of delicious cheese available . . . from locally-made artisanal and farmstead cheeses to your favorite national brands . . . it's nearly impossible to go wrong.
And if you're not sure which cheese is your sweetie's favorite? Add a cheese course to your Valentine's Day dinner and sample an assortment of different cheeses.
If you need a few romantic words to accompany your gift, keep reading.
For the holiday that's known for its cheesy sayings, there are plenty of actual cheese-y sayings to accompany your gift of cheese.
"You're the only one I want to write cheesy things about."
"This is a cheesy Valentine."
"Cheese be mine."
"I don't mean to be cheesy – please be mine!"
"You are the cheese to my cracker."
"I'd like a slice of you." [any sliced cheese]
"Wheel you be mine?" [for a whole wheel of cheese]
"A hunk for my hunk." [for a big hunk of cheese]
"You Cheddar believe it, you're the one for me."
"Hey Valentine, you're looking sharp." [Sharp Cheddar]
"Let's grow mold together. [Camembert, Brie, or other mold rind cheese]
"Brie mine."
"Brie mine and you'll never be prov-alone."
"I'd be so provolone without you.
"You Roquefort my world."
"You're Stilton the one for me."
"You're so Gouda to me."
"I don't want to sound cheesy, but we go really Gouda together."
"We curd be Gouda together."
"You make me melt." [Mozzarella]
"Fromage heart to yours." [Fromage Blanc or any French cheese]
"Give me Scamorza your loving."
Your kids and their friends really want cheese, too.
Skip the candy and send your kids' favorite snack cheese or string cheese for the Valentine's Day exchange at school.
Add a Valentine's Day sticker . . . standard mailing labels fit perfectly . . . or one of the cheesy sayings above.
Whichever cheese you choose to celebrate with, Havarti a Happy Valentine's Day!
---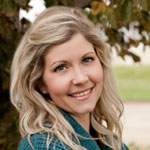 The author is a dairy farmer and writer from central Minnesota. She farms with her husband, Glen, and their three children. Sadie grew up on a dairy farm in northern Minnesota and graduated from the University of Minnesota with a degree in agricultural communications and marketing. She also blogs at Dairy Good Life.