It is no secret that technology is improving in the dairy industry at a rapid pace. We now have more advanced reproductive products that are helping our day to-day tasks and shaping what the dairy industry will look like in the future. I thought I would take the time to share some advancements that I think have and will improve our daily work.
Sexed semen is an amazing scientific breakthrough that is becoming more and more affordable as the technology becomes more widespread. With the adoption of sexed semen, the possibility to breed less animals becomes achievable. With this adaptation, new markets are being formed that contain great potential for dairies and may offset some costs of production.
RFID (radio frequency identification) ear tags are becoming more commonplace on today's herds, making everyday tasks more efficient. For us, RFID tags have cut hours off of certain tasks that use to consist of multiple lists and human errors. Now with a wave of a wand every cow's entire history is at your fingertips so you can make decisions in real time.
Calcium supplements have made a splash in the last few years. As we learn more about the cow and her needs, we find out how important these supplements can be. During freshening especially, it has been discovered that even though a cow may not have milk fever she does have a dip in calcium that needs to be replenished as soon as possible. Failing to do so may hinder her production as well as reproduction.
On the horizon is the large scale push for methane digesters. The technology has improved greatly over the years, making them more efficient for medium-sized dairies. Soon, methane digesters will have the capability to add ready-to-use natural gas to the energy supply we use every day.
"Lockout" is a new product that I thought was really neat. It is a teat sealant used at dry off with a blue tint to it. It retains its blue tint when the cow freshens so that you can easily tell the difference between fresh cow mastitis and pieces of the teat sealant.
As employees are getting harder to come by and even harder to keep, robotics are starting to make their way across the county. With the adoption of robotics come individual cow milk weights and early mastitis detection. This information, along with other perks of robotics, have the potential to greatly benefit the individual cow.
These are just a few advancements that I have found to be beneficial. What technologies have you seen that have been a benefit to the dairy industry in the last few years?
---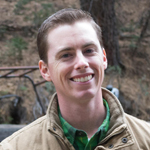 Tyler Ribeiro
Tyler Ribeiro is a fourth-generation dairy farmer born and raised in California. He is currently partners with his father at Rib-Arrow Dairy in Tulare where they proudly ship their milk to Land O'Lakes. Tyler is actively involved in the dairy industry, holding leadership roles in various organizations locally and across the United States.