While silage is not being packed this time of year, the feed storage area is still a dangerous place. Growing up my siblings and I spent our summers all around the farm. We had boundaries on what we should or should not do, like playing in the (expensive) cottonseed piles or walking (and sliding) down the covered silage pile. We adhered to most of them.
But, we were the farmer's children. He could be stern with us and we were expected to listen and respect the rules. But, there are lots of people on a farm at various points during the day that may not understand the dangers. They may be people on a farm tour, a salesperson, a family friend, or an employee's family member delivering a snack.
While at World Ag Expo this year, I stopped to grab an attractive piece in the Connor Agriscience booth. While I enjoyed my chocolate milk, I flipped through the pages of the children's coloring book. It contained real-life illustrations of modern farming, not those straw piles and pitchforks depicted in children's nursery rhymes. This book was more than a time-occupier for restless children, it was informative.
The Silage Safety coloring books are made available at no charge in both English and Spanish, and come with a lesson plan with each order. They are a project of Connor Agriscience and Sealpro, with illustrations by Bailey Verhunce, a friend of the family that lent her talents to the project. Known for its promotion of silage safety, the Keith Bolsen (www.silagesafety.com) Silage Safety Foundation has endorsed the content as well. The books make great talking points at twilight meetings, farm picnics, 4-H and FFA events, and for employees and friends.
Even the brightest individuals, of any age, can become too much at ease around silage piles. With the jostling of feed with a defacer or tractor bucket, a well-built pile can become an avalanche in certain circumstances.
"Our new coloring book is a fast, easy, and engaging way to teach everyone – not just children – how to work and live safely around silage," shared Connie Kuber, vice president of Connor Agriscience. So far, over 16,000 copies have been distributed.
Think about how the coloring book could benefit your operation on both a professional and personal level. Order your free copies at www.connoragriscience.com; use the contact form to order.
Through education, the life it saves could be a loved one.
---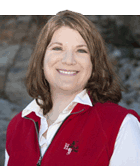 Patti Hurtgen
The author is the online media manager and is responsible for the website, webinars, and social media. A graduate of Modesto Junior College and Fresno State, she was raised on a California dairy and frequently blogs on youth programs and consumer issues.