Dairies normally have guidelines for culling cows, but how many of you have written rules or at least go through and cull calves and heifers on a regular basis?
Since my family has started raising replacement heifers for our own herd and others, it has been in our best interest and our customers' best interest that we cull poor-performing animals.
Calves — Do not keep persistently infected (PI) animals – pneumonia is a big one. Our farm treats a calf three times; after that, if we see minimal signs of weight gain, we cull. The best way we have found to improve calf health is through early diagnosis of respiratory diseases. We look for calves that eat less and do not finish all their milk. Our protocol is to diagnose and treat those calves before they show symptoms like coughing or runny noses.
Postweaning — Vaccines are huge for this age. A couple months ago we had a group of 10 calves at 130 days of age get mixed up with another pen. Once those 10 calves started getting sick, and some eventually died, we looked at their records and found that they missed an important vaccination.
Breeding age — Weight and size variation or certain genetic traits are reasons to cull. At home we have a rule that heifers need to weigh 760 pounds before entering our breeding age pens. We start looking at heifers at 340 days of age and give them until 380 days old until we make any culling decisions. Other herds may consider doing personal culling for certain genetic traits at breeding age. Feet and legs, udder conformation, and dairy strength are certainly things to consider.
Here are tips from my family's farm to help you be proactive when managing heifers and culling.
• Stick to the basics – fresh water, clean dry pens, high-quality feed, and vaccines.

• Know what your future heifer requirements are and how many you need for replacement in your herd before you make culling decisions.

• If a small heifer makes it to breeding age, cross-reference its health events to be sure a PI calf isn't getting bred and joining the lactating herd.
---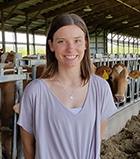 Christy Achen is the 2018 Hoard's Dairyman summer editorial intern. She grew up on a dairy farm in southwest Kansas. Achen is currently a senior at Utah State University studying agricultural communications and journalism.