My husband and I live a very unique lifestyle that allows us to include our children in our work. I've always thought how lucky we are as I've watched those who work a traditional 9-to-5 struggle with childcare options. It is such a gift to have them by our side daily.
However, it also presents more than a few challenges! As we've just recently welcomed another newborn to our family, I'm reminded again how trying those first few phases of child growth can be. Just like with farm work, having the right "tool" for the job can make all the difference.
Here are a few pieces of gear that make my farm work productivity a little bit easier with a baby in tow.
A good carrier that can continue to work as baby grows. Personally I love my Ergo, but there are a lot of options out there. Just make sure you are getting enough support for yourself and baby. Wearing babies is great, but not always practical, when you are trying to accomplish certain jobs.
A good barn stroller can fill in here. I prefer a jogging style that has larger wheels and is easier to navigate "off road" in barnyard terrain.
Lastly, set up a Pack 'n Play or at the very least a bouncer seat in a safe location. It is convenient to know you have a place you can put down baby, especially if an emergency situation arises. It also can serve as a home base for all those necessaries like diapers, wipes, and a change of clothes.
After figuring out this system for myself, I'd almost take the baby stage over the walking stage, as that just adds additional challenges. In my mind, most of these are weather related as we try to keep the kids dry and warm. We are lucky that Oregon's climate is rather mild but wet.
My favorite combo is fleece pajamas under Udder Tech kids bibs. We also invest in good boots like Bogs, they usually last to be handed down. A stash of snacks in the barn office also keeps the little helpers content, and the office provides a safe area to play.
I've also found it's important for me to be flexible on just what I can accomplish during this phase of life. I'm so glad I get to have my boys with me, but some days are just hard. And some days take a prioritizing of tasks that are actually going to get done. I also fully respect those that take a step back from farm work or find care off the farm for their kids. In the end, it comes back to my favorite thing about dairy farming, that we can find what works best for our farm and family.
---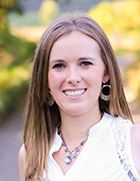 The author is a third-generation dairy farmer from Oregon where she farms in partnership with her husband and parents. As a mother of two young boys who round out the family-run operation as micro managers, Darleen blogs about the three generations of her family working together at Guernsey Dairy Mama. Abiqua Acres Mann's Guernsey Dairy is currently home to 90 registered Guernseys and transitioned to a robotic milking system in 2017.