At four of the national dairy judging contests this year, the Big E in Massachusetts, All-American in Pennsylvania, World Dairy Expo in Wisconsin, and North American International Livestock Expo in Kentucky, a single university captured the high individual titles. As impressive as that is as a stand-alone feat, the school also did so with four different students! That school was Virginia Tech coached by Katharine Knowlton.
At the North American International Livestock Expo's dairy judging contest, Kavita Bushong was the Virginia Tech student that stepped up to the plate to claim high individual honors in the collegiate contest wrapping up the great judging season for her school. The other four students were Katelyn Allen, who won at the Big E, Sarah Thomas who claimed champion honors at the All-American, and Shelby Iager who won at World Dairy Expo.
Going back to the NAILE contest in Louisville, Bushong edged University of Minnesota's Rachel Coyne by three points. Coyne had a 10-point advantage over Ian Lokai from The Ohio State University. Kayla Leiding from Minnesota and Allison Schafer of Michigan State followed.
For the fourth year in a row, the University of Minnesota topped the college contest at NAILE. Team members were Rachel Coyne, Kayla Leiding, Lauren Hendel, and Tanner Morrison. Les Hansen coaches the Golden Gophers who had three students in the top six individuals and won the oral reasons portion. Minnesota surpassed Virginia Tech by 30 points. Third went to The Ohio State University, fourth to Michigan State, and fifth to Cal Poly.
Brandon Almeida of Cal Poly was high individual in oral reasons. Allison Herrick of Cornell placed second after a tiebreaker. Minnesota's Rachel Coyne was third in oral reasons.
There were 18 colleges competing at this year's collegiate contest in Louisville. It was the final dairy judging contest of the calendar year.
Florida tops youth division
In a pool of 20 4-H and FFA teams, Florida 4-H emerged victorious at the North American International Livestock Expo's dairy judging contest. The Florida team consisted of Julia Heijkoop, Shelby Sumner, Nicholas Hammer, and Sarah Carter. Florida had three youth in the top six individuals and was coached by DeCubellis and Holcomb. They topped the second place team, Minnesota 4-H, by a mere 4 points. Michigan 4-H, Wisconsin 4-H, and Maryland 4-H followed.
In the individual competition in the youth division, Kelsey Biel of Minnesota 4-H won reasons and was the high individual by 14 points. Sarah Carter from Florida 4-H placed second by 1 point over Pennsylvania 4-H's Kristin Johns. Fourth went to Julia Heijkoop of Florida; she topped the fifth-place youth, Isaac Rott of Minnesota 4-H by 1 point.
Post-Secondary Contest
Kaskaskia College in Illinois had a dominating day, topping the six-team field by 69 points. Team members were Cady McGehee, Brock Irwin, Alex Walden, and Patrick Tegeler. They were the high reasons team with four of the top six reasons individuals. They were coached by Aaron Heinzmann. SUNY-Morrisville in New York was second, followed by Michigan State Ag Tech, Modesto Junior College, and Northeast Iowa Community College.
High reasons and high individual overall honors in the post-secondary division were bestowed on Alyssa Grocott of SUNY-Morrisville. She had a 9-point advantage over the trio from Kaskaskia, including Patrick Tegeler, Cady McGehee, and Alex Walden. Rounding out the top five was Elizabete Neves of Modesto Junior College.
---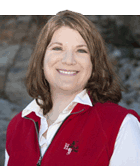 The author is the online media manager and is responsible for the website, webinars, and social media. A graduate of Modesto Junior College and Fresno State, she was raised on a California dairy and frequently blogs on youth programs and consumer issues.