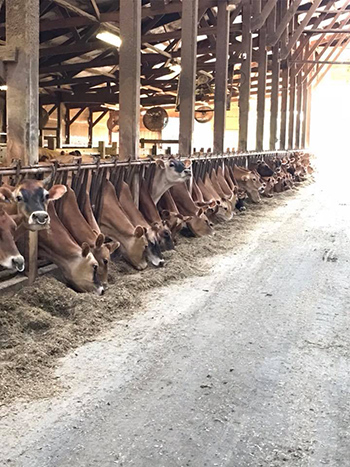 I've always been the person who wants to compare herself to others. I can't help it. My dad and I have this argument all the time. I've heard him say it a thousand times, "I don't compare myself to anyone else; I want to be the best I can be." And yes, we should all try to be the best we can be. But comparing my life and farm to others isn't about knowing where I stand; it's about moderating my expectations. And more importantly, it's about coping.
Agriculture is in a rut — a giant, water-filled, tractor-eating, metaphorical rut. We work ridiculously hard for very little reward, and we are failing.
Even worse, we're taking it personally. But, how could we not? Aren't we agriculture? We all know that this lifestyle is more than a job. Our animals are more than just numbers or dollar signs. Everything about farming feels so personal.
The last few months have been very personal for me. I'm still getting multiple messages a day from farmers who are struggling to see what their future holds. Some of them know their exact future, and it's not good. No farm size has been immune.
It's not just you, personally
So yeah, I like to compare myself to others because, right now, what that comparison is telling me is that our failures are anything but personal. The fact that you have to pick and choose which bills you pay each month isn't personal. Opening your milk check and realizing that it doesn't cover your costs or provide you with enough to support your family isn't personal. Worrying how you're going to feed all your cows this winter isn't personal.
I have to tell you, though, that it feels personal. It feels more personal than any personal feeling you've ever felt. You feel like you're failing. I feel like I'm failing.
But how could it be personal when it's so widespread? YOU are not failing. WE are failing.
Ten years ago, when I was struggling to understand a topic in school, it was comforting to know that I wasn't alone. This feeling isn't comforting, it's devastating; but knowing that I'm not struggling alone and that there are others I can talk to about it helps. It makes the darkness a little lighter and breathing a little easier. We need to start talking about our failures, about this failure, because it is not personal. And ignoring it only gives it the power to discourage us more.
---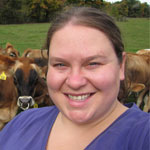 The author dairies in partnership with her parents and brother at Spruce Row Farm in Pennsylvania. Jessica is a graduate of Pennsylvania State University, and since 2015, she has been active in promoting dairy in her local community. You can find her and her 250 Jersey cows on Facebook at Spruce Row Dairy or on Instagram at @seejessfarm.
---
Join us for the next webinar on November 12, 2018:
"Economic and user experiences with automatic milking" presented by Larry Tranel
Sponsored by Cargill Animal Nutrition
Larry Tranel, Iowa State University Extension and Outreach, presents "Economics and user experiences with automatic milking" on Monday, November 12, at noon (Central time). Automatic milking systems (AMS) continue to expand and user experience is growing. The webinar will focus on surveys and Tranel's experiences working with producers who utilize robots, and it will cover economic variables that may help determine profitability and cash flow. Register here for all webinars.