I know New Year's Day is just another day, but there's just something about that new number that makes it feel different. It makes it feel like a fresh start, and we could use that for 2019.
The year of 2018 brought more than its fair share of trials to the dairy industry. Challenging us all in ways that haven't really been felt to this extent before. We've all been through downs before, but this one just feels different.
Those feelings honestly are a bit scary. I'm scared that 2019 will be a repeat of 2018, which feels so very unfair to our families and our farms. A feeling that makes many of us question our futures.
But a fresh start also offers the opportunity for fresh perspectives. To shape our mindset to how we want our time in the next 357 days to go. So for me and my family and farm, we will hold onto hope.
This industry is blessed with some of the best people working not only within it, but in all roles supporting it as well. We have bright and intelligent minds that come up with creative solutions to the most complex problems daily. If we can hold together and work together, there is no doubt in my mind that we can hope 2019 will be a better year.
---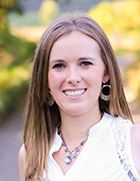 The author is a third-generation dairy farmer from Oregon where she farms in partnership with her husband and parents. As a mother of two young boys who round out the family-run operation as micro managers, Darleen blogs about the three generations of her family working together at Guernsey Dairy Mama. Abiqua Acres Mann's Guernsey Dairy is currently home to 90 registered Guernseys and transitioned to a robotic milking system in 2017.
---
Join us for our next webinar:
"The dairy situation and outlook for 2019"
presented by Mark Stephenson, University of Wisconsin-Madison
Sponsored by Chr. Hansen
Dairy policy analyst, Mark Stephenson from the University of Wisconsin-Madison, presents "The dairy situation and outlook for 2019" on Monday, January 14, at noon (Central time).
For the past four years, dairy markets have been stuck in a relatively small range of prices that don't cover the full costs of production for most producers. Will 2019 be the breakout year that we hope it is? We'll examine the market fundamentals we face and see what's in store. Register here for all webinars.