My daughter, Caitlin, and I were discussing our switch to robotic milking and our agri-tourism venture. She told me that when we start hosting guests wishing to see robotic milking, I should dress differently.
I asked, "What is wrong with my camouflage field pants or bib overalls?" (In summer, my "uniform" is a combination cargo shorts and a T-shirt.)
She went on to explain that I should consider wearing a polo shirt and khakis. She told me not to be the stereotypical farmer meme. Caitlin said she has had to explain to some of her friends that we don't still milk by hand, and yes, we do use computers.
I told her that the cargo shorts were how a Southern farmer rolls in warm weather and are non-negotiable. I did agree, however, to perhaps get a few Columbia PFG (performance fishing gear) shirts of various colors with the farm name monogrammed on them.
Perhaps I can even get a feed company to give me a sportier straw hat this summer. It has been said that the only reason a dairy farmer does not wear flip flops to work is because feed companies don't label them with the co-op name and give them away.
I understand her concern to present modern farming to the public in a positive and realistic format. In the modern dairy world filled with computers, GPS guided field work, drone field inspections, robotic milking, activity tracking of livestock, and so forth, farmers probably use more technology than most industries.
We still own livestock and work on machinery, though. We do all of these tasks covered with grease, sweat, and cow manure most days. Hopefully, I can remain a bit cleaner with robotics and tourism than I seem to be able to now. I will miss the overalls and camouflage pants if Caitlin has her way, though.
---

Mark and Caitlin Rodgers are dairy farmers in Dearing, Georgia. Their "Father and Daughter Dairy Together" column appears every other Thursday on HD Notebook. The Rodgers have a 400-cow dairy that averages 32,000 pounds of milk. Follow their family farm on Facebook at Hillcrest Farms Inc.
---
Join us for our next webinar on February 11, 2019: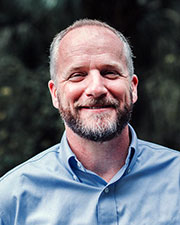 Geoff Dahl, University of Florida, presents "Heat stress affects dry cows and calves" on Monday, February 11, at noon (Central time). Sponsored by TechMix.
Heat stress during late gestation has significant negative effects on the productivity of the cow in the next lactation. Emerging evidence suggests that the developing fetus is also negatively impacted, with lower milk yields in the first lactation and beyond. Sign up here.