Involvement in a dairy cattle breed association can build relationships with other breeders both locally and around the country. Some producers take those relationships a step further to connect with farmers around the globe.
This summer, the United States will host the 16th World Guernsey Cattle Federation Conference and tours from May 21 to June 15, 2019. During that time frame, attendees will visit more than 20 farms, partake in educational sessions, and see tourist attractions across the country. The World Guernsey Cattle Federation Conference is held only once every three years, and this is the first time it will be held in the United States in over two decades.
According to conference co-chairs Patty and John McMurray of Bentleyville, Pa., serving as the host country provides an opportunity to showcase American cattle while sharing and learning from fellow Guernsey breeders. As past attendees, they also found personal benefits from the conference.
Patty said, "Our attendance at previous World Guernsey Conferences and tours has enhanced our knowledge of the world and its inhabitants, as well as of the Guernsey breed."
Australian Guernsey breeders Lyndon and Joyce Cleggert have attended the conference and tours in the past, and they enthusiastically endorse the program as well.
"There are a huge number of opportunities that can come out of a conference. First, it is possibly the best holiday you don't have to plan yourself. You get to see things you may never have thought you wanted to see, and experience local culture and share it with a group of like-minded people that you will consider family by the end of the trip," Lyndon said. "And, you get to see some amazing Guernsey cows along the way."
Lyndon added, "These conferences are all about moving forward as a breed and planning for the future."
Registration for the 2019 World Guernsey Conference is open until March 15. To learn more, visit www.worldguernseyconference.com.
While I have not personally attended a world breed conference, I served as one of the hosts when the World Jersey Cattle Bureau made a tour stop at the Hoard's Dairyman Farm during their international conference last summer. You can read more about their conference in the blog, "Global Jersey enthusiasts visit Hoard's."
Oceans may separate the continents, but dairy farmers share the same passion for their cows, no matter where they live. And when it comes to these world breed conferences, the host country goes all out to create a once-in-a-lifetime experience for global dairy producers to enjoy. If you ever have the opportunity to attend, I don't think you'll return home disappointed.
---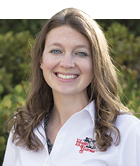 Abby Bauer
The author is an associate editor and covers animal health, dairy housing and equipment, and nutrient management. She grew up on a dairy farm near Plymouth, Wis., and previously served as a University of Wisconsin agricultural extension agent. She received a master's degree from North Carolina State University and a bachelor's from University of Wisconsin-Madison.