The mantra of "Pay it Forward" has been around since 1916 but gained popularity when a movie with that title was produced in 2008. The general idea is that just being the recipient of a kind deed can motivate you to be the kind person in the future.
Last month, I had the opportunity to see the lady who introduced me to Dairy Bowl. It had been over 30 years since she was my coach, and several years since I had seen her. I walked over to her and said hello and chatted.
The next day I was asked to address the young junior Holstein members just prior to the rookie dairy bowl contest finals. As fate would have it, my previous coach was moderating the rookie division.
I rose and walked to the front of the room to talk about my experience in the state's junior association as an officer, Holstein princess, and dairy bowl competitor. I announced that my first coach was the woman seated between the judges and scorekeepers. Marilyn Herzog brought Dairy Bowl to California in the early 1980s, and I watched my first quiz bowl contest in 1983, which she moderated. The next year I participated, and in 1986 when the first national junior contest was held, I was selected to represent the Golden State in the contest's inaugural year. While we came out second in the national contest, it exposed me to vast and incredible activities available outside of my home state.
The following year, I was on the senior dairy bowl team. We did not fair as well that year. I vividly remember sitting at the junior awards banquet in Indianapolis. They announced the National Distinguished Junior Holstein members. The top six youth were recognized for their Holstein project. Even for a teenager, I knew the last names of the winners and their farms by reputation, and was in awe of their accomplishments. After the winners were announced, Marilyn turn to me, tapped my leg, pointed at me, and said, "One day that will be you." I just smiled as it was a nice sentiment, but not one that held much water. But it did plant a seed. Having the wife of a National Holstein Association's board of director (at the time) tell you that you have potential meant a lot. But she was right. Two years later, I was one of those lucky six chosen.
It is easy to forget that sometimes an encouraging word can stimulate a young person to dream big. To that individual, those words or actions are powerful. Earning that award stimulated my desire to become as active as I could and later encourage others.
What I did not know until recently was that the young Marilyn Herzog exhibited her Guernsey animals at the county fair. She did not have a 4-H leader, and a few dads of other 4-H'ers served as her honorary advisers and gave her guidance with her dairy project. She told me that my grandfather was one of those "4-H dads" who helped her and she never forgot his or any of their kindness.
So it is more than full circle, these acts were more of a spiral that still continues. My grandfather guided Marilyn, she encouraged me, and I in turn coach other youth.
While positive words cost you nothing, to the recipients, those words can be priceless.
---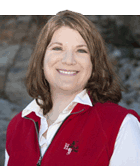 The author is the online media manager and is responsible for the website, webinars, and social media. A graduate of Modesto Junior College and Fresno State, she was raised on a California dairy and frequently blogs on youth programs and consumer issues.