Last week, I officially shed the winter coat and put it away. I'm not talking away, away because I've now lived in Wisconsin long enough to understand that sometimes April will pretend to be January. I also am not walking around in short sleeves . . . I simply pulled out the lighter jacket. So maybe the victory isn't as grand as I made it out to be.
But maybe, just maybe, it's spring, which means it's also time to hit the alfalfa fields and see what, if any, damage the long winter produced.
"Forage stand health evaluation and winter injury assessment needs to be done once there is 3 to 4 inches of growth from the plant," advised Ohio State's Mark Sulc, extension forage specialist, and Rory Lewandowski, county extension educator, in the C.O.R.N Newsletter.
For alfalfa, that evaluation entails selecting a random 1-foot square area and counting the number of plants and stems in the area. For a true perspective of the field, a square should be checked every 5 to 10 acres.
The pair also suggested digging up some plants to examine the crowns and roots. It's important to identify fields at risk for winterkill early and devise a plan for salvaging forage production from the field. You might find this resource from Iowa State extension helpful as you make those decisions.
According to Iowa State extension agronomists Brian Lang and Rebecca Vittetoe, the fall moisture that many dairy areas received likely complicated alfalfa survival.
"Under normal fall conditions, adapted alfalfa varieties harden down to tolerate wintertime, 4-inch soil temperatures of 15°F or less before damage to crown tissue would occur. However, during wet falls, this hardening-down ability is reduced," the pair explained.
The soil saturation also creates concerns for aeration of the soil and plants. "Saturated soils having little to no air space is not all that different from an anoxia zone caused by ice sheets above ground," the researchers added.
You can learn more on their assessment of this year's weather conditions and its impact on alfalfa at this link.
---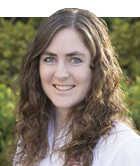 Maggie Seiler
The author is an associate editor. She covers feeding and nutrition, youth activities, and heads up the World Dairy Expo Supplement. Maggie was raised on a 150-cow dairy near Valley Center, Kansas, and graduated from Kansas State University with degrees in agricultural communications and animal sciences.