We have been taught there are steps to follow when milking a cow. Books have been written about protocols in the parlor . . . but do they always get followed? Michigan State University Extension's Phil Durst and Stan Moore looked at research, primarily in Michigan, to answer that question. Keep in mind, that Michigan is a top state for milk production per cow and for high-quality milk (low somatic cell counts.) Durst and Moore believe evaluating the milking procedures can provide valuable feedback for management and employees.
In the April Hoard's Dairyman webinar, "Milking evaluation reveals costly problems" they revealed two common problems: biphasic milking and overmilking. The simplified solution to these milking concerns was "The first stimulation needs to be sufficient and high quality."
Their research used a lightweight, battery-operated VaDia (Vacuum Diagnostic) recorder attached to the milking unit to record milk flow and vacuum levels. It enabled them to analyze all cows during the entire milking process.
We'll start with their recommendations:

Ten to 15 seconds of physical stimulation of teats early in the preparation process.
Lag time of 60 to 120 seconds until machine is attached.
Milking units come off when approximately ½ to 1 cup of milk is still in the udder.
These are important steps, but they may not always be followed in their entirety or consistently and that can lead protocol drift.
Biphasic milking
Biphasic-milking results when the oxytocin has not reached the mammary cells at the time the unit is attached. Milk flow starts but stops for a period until the cells release their milk. That period may be 30 to 120 seconds in length. It is also called delayed milk ejection (DME).
What are the impacts of biphasic milking?
• Uncomfortable cows
• Congestion in the teat during vacuum and no milk flow
• Reduced milk
• Changes in the teats including increased teat end roughness
• Reduced production as much as 10 pounds per day
Even with the same protocols in the same herd, some cows may be impacted by biphasic milking and others not. "Therefore, drying the teat and attaching the unit in the same pass does not provide adequate lag time" shared the team.
They suggested that dairies with milking protocols take another look at them and think about the opportunities when biphasic milking could occur. Then think about sharing any changes with employees and training them again on proper procedures.
Overmilking
Overmilking is the second issue they uncovered. Their definition: "Overmilking is when the unit stays on the cow for more than 30 seconds after milking is complete." Cows that are overmilked will milk out slower in the future. Again, they referred to research. In two different studies 44 percent and 84 percent of herds had overmilking in at least 30 percent of their cows.
Overmilking concerns
• High vacuum on the teat ends
• Uncomforatble cows
• Teat congestion and teat-end damage
• Longer milking time (cow concerns)
• Longer milking shifts (labor concerns)
• Longer time in the holding pen (less time eating, drinking)
• Longer standing time
• All of these will reduce milk production and increase costs
Moore encouraged producers to do a baseline check for a starting point. Remember, a typical cow should take 4 to 5 minutes to milk out. But, before you get too excited about making changes, first do a thorough equipment check, adjust the delay setting if needed, and then adjust the milking rate setting if needed. Once adjustments have been made, regular monitoring is recommended.
"Just because dairy producers may say that they have not experienced these problems, that does not mean that their cows have not experienced these problems," concluded the extension team.
To watch the webinar and listen to live attendee questions, visit this recorded presentation or our archives.
---
Join us next month
Mike Hutjens, University of Illinois, will present "Focusing on fresh cow strategies" on Monday, May 13, at noon (Central time).
The webinar will feature nutrient transitioning between close-up, fresh cow, and high-producing cow rations. Considerations include fresh cow pen duration, small herd strategies, and fresh cow comfort. Amino acid supplementation, fatty acid additions, and metabolic disorders will be covered. The presentation is sponsored by Zinpro Performance Minerals.
---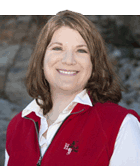 The author is the online media manager and is responsible for the website, webinars, and social media. A graduate of Modesto Junior College and Fresno State, she was raised on a California dairy and frequently blogs on youth programs and consumer issues.