I know, possibly more than most farmers, how annoying dealing with the general public can be. I get ridiculous (and sometimes mean) questions on social media almost daily, and a major state highway literally cuts our farm in half.
When there's so many other things to do in a day, worrying about a little bit of bale plastic in the front yard or clump of hay on the side of the road falls way down the list of priorities, but it shouldn't. Considering our neighbors, the community, and the impact our busy abnormal lives have on them can be a little annoying, but it is absolutely necessary.
---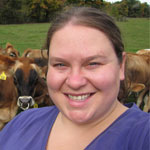 The author dairies in partnership with her parents and brother at Spruce Row Farm in Pennsylvania. Jessica is a graduate of Pennsylvania State University, and since 2015, she has been active in promoting dairy in her local community. You can find her and her 250 Jersey cows on Facebook at Spruce Row Dairy or on Instagram at @seejessfarm.