There are some things in life that leave a lasting impression. Moments and memories from childhood that stand out from the rest — even a simple image can return a flood of memories.
For me, one those images that I vividly recall from an early age is that of a red-framed magazine cover with 12 cow pictures. That would be the rear view, side profile, and topline shot of the four cows selected for the Hoard's Dairyman Cow Judging Contest. I remember not only checking out the girls on the cover to place them but also to admire their dairy attributes.
And now that the 89th iteration of the contest is completed and the farms have been revealed, I can share my pride. This year, my home farm — Abiqua Acres — provided the cows that made up the Guernsey class. Our ladies got to claim their titles as Hoard's contest cover girls.
There's just something about the tradition of the classes that makes it exciting and fun. Seeing the different breeds arrive on each issue in the mailbox is a special surprise. I know many a farm kitchen table that has been ground zero for heated discussions about those cows on the covers.
There's also the challenge and fun that surrounds the contest, placing cows from pictures is honestly a tough task. From the farm side, we enjoyed the challenge of putting together a class that we felt was worthy and would represent the Guernsey breed and our farms breeding philosophy as well as being in the right stage to photograph well.
This was an experience we won't soon forget!
---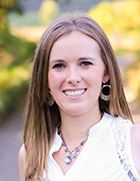 The author is a third-generation dairy farmer from Oregon where she farms in partnership with her husband and parents. As a mother of two young boys who round out the family-run operation as micro managers, Darleen blogs about the three generations of her family working together at Guernsey Dairy Mama. Abiqua Acres Mann's Guernsey Dairy is currently home to 90 registered Guernseys and transitioned to a robotic milking system in 2017.