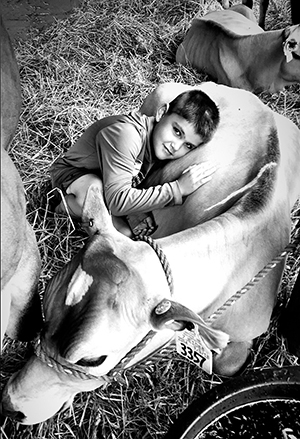 This summer our stress level has been heightened. From late planting to shortage of labor to a barn fire — we are undoubtedly overwhelmed and tense.
However, our stress shouldn't equal kid stress. Or at least, I don't think it should. I firmly believe kids need to help out — in the house and out at the farm. But, by no means should the worries of a family business rest on the shoulders of kids. I often wonder how much of the stress of farming gets passed on to farm kids.
The last few weeks, when we have been weighed down from the worry of it all, I witnessed small glimmers of hope from the helping hands of our children, who have been a gentle reminder that all is going to be okay. They have helped us out in more ways than one by baling straw, raking hay, feeding heifers, and raking stalls. The list goes on and on.
And, just when I think I'm going to lose it from all the stress that life's hiccups and Mother Nature have forced on us, I look at our children, who are up early and out late by their father's side. They are covered in dirt and have calloused hands. They sport farmer tans and ripped up jeans. When I worry, I listen to the giggles of our kids, smiling wide, with hearts full of happiness.
Scott feels so bad that we have not been able to push pause long enough to take the kids to a local pool or even to a movie this summer. I gently remind him that the kids are living their best life. They love being a part of our world — the hustle and bustle, the go-go-go. It is stressful and overwhelming, but they see a family stuck like glue, working side-by-side and hand-in-hand for a common goal — putting food on the table. They feel loved and that they belong.
And, at the end of the day, I think what every person wants, especially every kid, is to be accepted and to be loved and to feel that they are part of something. Even if that something is a crazy farm life that has had more stressful days than good ones.
Godspeed to our children, who fill our hearts full to the brim with hope, especially in a time that not much else does. We wish that they continue to live the good life and remind the rest of us that everything will be okay.
---

Karen Bohnert is a second-generation dairy farmer, born and raised on her family dairy in Oregon and moved east after graduating from Oregon State Univer-sity. Karen and her husband work in partnership with family, and they along with their three children live and work on the family's 500 Jersey cow dairy in East Moline, Ill. Karen's pride and love for dairy could fill a barn, and she actively promotes dairy anyway she can.