The same question has been raised time and again in conversations about the future of the dairy industry. How do we encourage the next generation to choose milk as their beverage of choice?
Time and again the answer always seems to be to fix school milk.
The outdated carton has reached its time for innovative replacement. There's too much negative feedback on the cartons. They are not being properly handled and kept cool. The result of that mishandling is milk from the cartons that is just not palatable. Add to that the waste the cartons create.
Luckily, we don't have to wait for the innovation to happen, it's already here in the form of "steel cows" or milk dispensers for schools. I honestly think that this is a brilliant solution to the school milk problem. Kids simply dispense their milk into a reusable cup. The dispenser uses bulk milk bags and keeps the milk chilled.
The pilot tests of the dispensers have been met with much approval here in the Northwest. But for more schools to implement their use there seems to be several hurdles to cross yet. First and foremost, how can we meet the National School Lunch Program requirements of 8 ounces of milk per student with children serving themselves? Secondly, outdated processing facilities can't produce the bulk milk bags needed for the dispensers. Just like with any other new idea, cost is a third hurdle to consider.
I know with any project, and the problems it faces, there is always more than meets the eye, but when a viable solution has already been introduced, like in the case of these "steel cows," it feels like a simple fix. A cold glass of nutritious milk is something we as dairy farmers enjoy with many meals. How can it not be something everyone could work together to make happen for school lunch programs?
---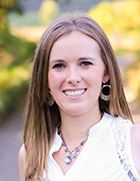 The author is a third-generation dairy farmer from Oregon where she farms in partnership with her husband and parents. As a mother of three young boys who round out the family-run operation as micro managers, Darleen blogs about the three generations of her family working together at Guernsey Dairy Mama. Abi-qua Acres Mann's Guernsey Dairy is currently home to 90 registered Guernseys and transitioned to a robotic milking system in 2017.