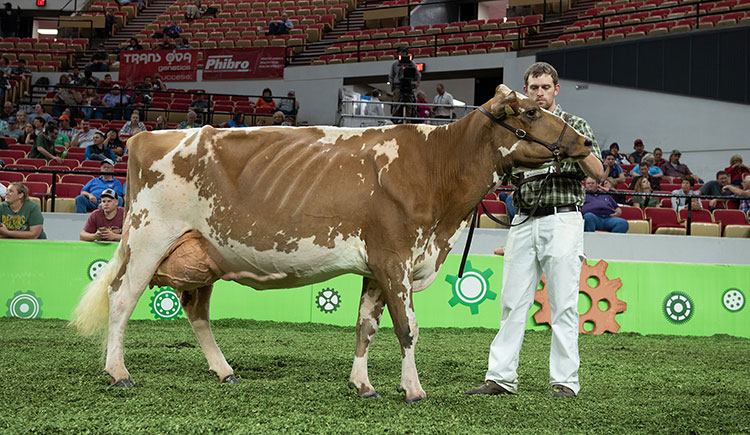 The Green Mountain State, Vermont, had a great day on the colored shavings, which were appropriately colored green this year. De La Plaine Bingo Stinger paraded to Senior and Grand Champion honors on the back of her dairyness and femininity. The five-year-old cow is owned by Blue Spruce Farm of Bridport. Reserve honors went to the 100,000-pound production cow Marilie Gentleman Karmina, owned by Peter Vail of New York and Mike and Linda Hellenbrand of Wisconsin.
Intermediate Champion was Old-Bankston JC Banner. This Junior Two-Year-Old Cow is owned by Maryland's Glamourview-Iager and Walton. Another young cow, Old-N Lazy V Melania-ET, was tapped for reserve as a Senior Two-Year-Old owned by Blue Spruce Farm of Vermont.
Glamourview-Iager and Walton also owned the Junior Champion, Jomill Burdette Kalliope. Taking reserve honors was Nor-Bert Lochin Vesta. Vesta is owned by Dalton, Dillon, and Breanne Freeman of Indiana. The junior champions both came from the Fall Yearling Class.
When the heifer results were tallied, Family-Af Ayr Farm of Illinois was awarded Premier Breeder and Exhibitor. Old-N Lazy, Kurt Wolf, and Michael Maier of Iowa were presented the overall Premier Breeder banner. Premier Exhibitor honors went to Glamourview-Iager and Walton.
The Junior Show
Old-N Lazy Gibbs Morgan-ET was judge Phillip Topp's selection for Grand Champion of the Junior Ayrshire Show. The four-year-old cow was exhibited by Mikayla Endres of Wisconsin. Tapped as reserve was Toppglen Wishful Thinking-ET owned by Tanner, Brennan, Marissa, and Logan Topp of Ohio.
Intermediate Champion honors went to Reinholts Lochin Vail-ET. She is owned by Dalton, Dillon, and Breanne Freeman of Indiana. The winning Senior Two-Year-Old, Miss Bikini of Iowayside was reserve. Miss Bikini is owned by Dana and Madison Sickles and Jack and Sydney Carroll of Iowa.
The winning Fall Yearling, Nor-Bert Lochin Vesta, took Junior Champion honors. Farr Reagan Cheerio, the winning Summer Yearling, captured reserve honors for Aislynn Farr of Vermont.
Phillip Topp of Ohio and associate judge Matt Hawbaker from Maryland placed 236 head of Ayrshires.
---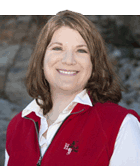 The author is the online media manager and is responsible for the website, webinars, and social media. A graduate of Modesto Junior College and Fresno State, she was raised on a California dairy and frequently blogs on youth programs and consumer issues.