Showmanship at World Dairy Expo is not for the faint of heart. It's on a national stage, circling on the colored shavings, and featuring hundreds of other competitors. While the contest started a bit late due to the breed shows finishing later than expected, it continued until 11:30 p.m. Thursday evening.
Youth exhibitors compete in various heats of dairy showmanship
Junior Division
Nate Oleniacz was the judge for 120 junior showmanship entrants. He provided valuable feedback for the youth to improve their skills, both in the ring and following the conclusion of the show.
Intermediate Division
"This was the funnest class that I have ever judged!" stated intermediate judge Brian Coyne, "The top three showmen sorted themselves to the top." The first prize showman, Olivia Finke of Ohio, and her Jersey cow moved in tandem and step-by-step as they bested over 130 intermediate competitors.
Wisconsin's Brynn Emory and Emma Paulson, Rachel Visser of Minnesota, and Katelyn Renee Taylor of Pennsylvania rounded out the top five intermediate showmen.
Senior showmanship competitors
Senior Division
Dan Bauer evaluated 140 exhibitors in nine heats and pulled out 18 finalists to work more diligently. Joey Opsal of Wisconsin was the top senior showman. Judge Bauer raved, "Awesome, awesome, awesome class!" Opsal was a handy winner and did an "incredible job." He had a slight advantage in the presentation of his heifer, particularly in the natural head carriage.
Taking second in senior showmanship was Zoe Ertel of Wisconsin, followed by Eric Wachtendonk of Wisconsin, Matt Lange of Ontario, and Olivia Brandenburg of Wisconsin.
Judge Dan Bauer with Joey Opsal, Senior showmanship winner
Fitting and showmanship honors For the first time ever, an award was presented to the youth that faired the best when combining their fitting contest results with their showmanship placings. To win the Fitting & Showmanship Achievement Award, youth competitors must be one of the top five finishers in their respective Youth Fitting Contest division and place in the top 15 of their age division in the Youth Showmanship Contest.
Ashlee Garbers of Wisconsin placed fourth in the fitting contest on Sunday and with a final placing in the top 15 in showmanship took the Fitting and Showmanship Achievement Award in the intermediate division. New York's Emily Mikel captured the overall title in the senior division. She placed 12th in senior showmanship.
---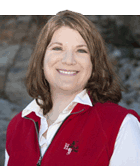 The author is the online media manager and is responsible for the website, webinars, and social media. A graduate of Modesto Junior College and Fresno State, she was raised on a California dairy and frequently blogs on youth programs and consumer issues.