In the International Guernsey Show at World Dairy Expo on Friday, October 4, it was Valley Gem Atlas Malt-ET that was left in the center of the ring at the end of the show. The four-year-old cow was bred, owned, and exhibited by Valley Gem Farms of Cumberland, Wis.
"It's so enjoyable when the winner walks in the ring and you know you have that winner," shared Guernsey Judge Seth Johnson of Tunbridge, Vt. "When this four-year-old came in, we knew it. To me, the big thing about that four-year-old is that she is so comfortable on those feet and legs; she moves beautifully, she's sure-footed, she moves beautifully on that pastern. She's so balanced, and she's so comfortable."
And yet it was a close placing between the Senior Champion, Malt, and the Reserve Grand Champion and the 2018 defending Grand Champion, Willow Brook Labron Toni. She won the Six-Year-Old and Older Cow class that featured three returning Expo champions.
"This pair of cows — the four-year-old and this aged cow — are just lights out for us," said Judge Johnson. "When this aged cow came in, that was a heck of a class, but we knew it as soon as we got behind her. Those two cows just rise to the top for me."
Intermediate Champion honors were captured earlier in the day by Springhill Farm's H Broke Levi Tayte. The cow from Big Prairie, Ohio, topped the Junior Three-Year-Old class. Thurston Farms Primetime Trixie, the winning fall yearling in milk, was named the Reserve Intermediate Champion. Exhibited by Katie Livingston of West Winfield, N.Y., Trixie was also named the Intermediate and Grand Champion of the Junior Show.
Kaila, Karli, and Kolby Stoltzfus of East Earl, Pa., bred and owned the Reserve Grand Champion and Reserve Intermediate Champion of the Junior Show. That group also exhibited the Senior Champion of the Junior Show, Springhill Mentor Jamaica-ET. Reserve Senior Champion honors of that show went to Lauren Robison and Braden Hartmann of Mulberry Grove, Ill., with Hartdale Top Notch Coco.
In the heifer show, it was the first and second-place fall yearling heifers that achieved the Junior and Reserve Junior Champion honors. The Junior Champion was Knapps Apie Time To Show-ETV exhibited by Glamourview-Iager and Walton of Walkersville, Md. The Reserve Junior Champion was Springhill Jokes Finale-ETV shown by Springhill and Valerie and Jim Spreng of Big Prairie, Ohio.
A pair of homebred Pennsylvania winter heifer calves took home the honors of the Junior Champion and Reserve Junior Champion of the Junior Show. Landree Fraley's Twincounty Whats On Tap-ET was named the Junior Champion. Fraley hails from Muncy, Pa. Kyle Bonavita from Meshoppen, Pa., exhibited the Reserve Junior Champion.
The Premier Breeder of the Guernsey show was Springhill Farms of Big Prairie, Ohio, and Premier Exhibitor went to Knapps Genetics of Epworth, Iowa. Premier Sire honors went to Jens Gold Aaron Copper-ET.
In total, Johnson and his associate judge, Jon Lantz, Ellsworth, Wis., lined up 202 head of cows and heifers.
---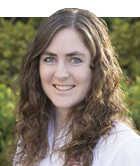 Maggie Seiler
The author is an associate editor. She covers feeding and nutrition, youth activities, and heads up the World Dairy Expo Supplement. Maggie was raised on a 150-cow dairy near Valley Center, Kansas, and graduated from Kansas State University with degrees in agricultural communications and animal sciences.