Young calves are the most fragile asset a dairy producer has. We know that a calf's value later in life as a profitable milk cow is largely impacted by her early development, but maintaining a successful preweaning period can often be complex. With these challenges in mind, Hoard's Dairyman is proud to release the newest edition of the Calf Care manual. It is written by Coleen Jones and Jud Heinrichs, both of whom work with Penn State Extension in the areas of calves and heifers.
It's often said that "If you don't measure it, you can't manage it." This mantra is especially true for calves because of their specific needs at such a critical point of life. Calf Care provides concrete recommendations supported by the best current dairy research for farmers to evaluate and update their calf standards. Explore guidelines on colostrum testing, choosing the right calf starter and milk replacer, feed requirements, and calf health scoring to find the best option for you. With this data at your fingertips, management decisions will become easier and clearer.
The practices outlined in the book can also help your farm develop Standard Operating Procedures (SOPs) to make sure every calf is cared for effectively and appropriately. From newborn exams to scours treatment, you'll find practical tips that can easily be expanded for all employees to follow.
There are many choices for feeding calves, and to help each farm find what works best in their system, this book provides background on individual versus group feeding models as well as computerized systems. It may also be useful to compare choosing an appropriate milk replacer with feeding pasteurized waste milk or even whole milk. The authors also explore the ideas of providing forage and various additives in calf diets.
Additionally in the book, you'll find information and recommendations on:
Effective calfhood vaccination schedules
Causes and treatments for scours and respiratory diseases
Monitors of calf health
Rates of rumen development on various diets
Evaluating colostrum effectiveness with blood sampling
This useful resource is sure to provide insight and ideas to everyone who works with dairy calves. Make sure the future of your herd is raised right by picking up a copy of Calf Care from our Hoard's Dairyman bookstore.
---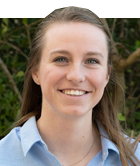 Katelyn Allen joined the
Hoard's Dairyman
team as the Publications Editor in August 2019. She manages the development, editing, and marketing of the variety of resources offered through the Hoard's Dairyman Bookstore. Katelyn is a 2019 graduate of Virginia Tech, where she majored in dairy science and minored in communication. Katelyn grew up on her family's registered Holstein dairy, Glen-Toctin Farm, in Jefferson, Md.