Recently, I had the rare opportunity to visit the high school I graduated from three decades ago. I do not live near the school, and it had been 10 years since I set foot on campus.
As someone who works in social media, I had been following the success of my high school's FFA program online. Our school had two agricultural instructors when I was a student. Today, there are four full-time teachers in the agricultural program, and they have classes like agricultural policy in addition to the traditional animal science, horticulture, and agricultural mechanics.
While the town's population has grown, so has the popularity of the agricultural program. The current students do not come from dairy farms or cattle ranches like many of my classmates did. They represent all walks of life and have an interest in learning about food and fiber production and all the sectors it reaches.
Back then, it seemed the school counselor would "dump" students in an ag class when they needed to fill a class roster. That was not the feeling I got on Friday. There were a lot of students, with smiles on their faces, headed to class, and they were attentive to learning.
Two students from the chapter are regional FFA officers, something that did not happen during my tenure. So, the program is not only growing at the chapter level, but its leadership is expanding beyond the small-town community.
A half dozen new welding booths had just been installed in the shop for the ag mechanics students. On the wall of the classroom was a large "presentation check" given to the FFA program from the local Soroptimist Club. It was a sizable sum that was to be used to build a new greenhouse on campus. The one where I planted seedlings was still standing, but it was quite tiny in comparison to the one soon to be constructed. I was so excited to see the community as a whole — not just the agricultural community — supporting the efforts of the students and the FFA program.
The FFA program now has a school farm just a few miles from the campus. There were two large barns and another under construction and it, too, represents the commitment and growth of the program.
What was even more impressive is that the neighboring town did not have a high school in 1989 and its students attended my high school. Many of these students also came from rural or farming backgrounds. However, that town has grown and has its own high school with a very active FFA program as well. Students that used to be funneled to my high school have their own campus. So, my high school's program has grown entirely from within while not relying on feeder schools to supply students.
So often you hear of programs dwindling due to lack of participation or funding issues. It was so refreshing to know that this school's agriculture program is thriving, even in challenging times. It made me very proud to be an Oakdale High School graduate and Oakdale FFA alumni this weekend. I wish them continued success.
---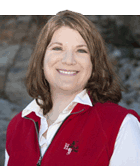 The author is the online media manager and is responsible for the website, webinars, and social media. A graduate of Modesto Junior College and Fresno State, she was raised on a California dairy and frequently blogs on youth programs and consumer issues.