University of Minnesota senior Emily Annexstad and her sophomore brother Matthias topped the collegiate and 4-H contests, respectively, held at the North American International Livestock Exposition in Louisville, Ky. They led their University of Minnesota and Minnesota 4-H teams to victory.
Youth Division
Matthias Annexstad won the first individual breed announced — the Brown Swiss — and the last individual award of the contest — high individual of the youth division. Second went to Megan Meyer of Minnesota 4-H. Iowa 4-H's Naomi Scott placed third overall and won the Ayrshire breed. Eleanor Harrison of Virginia 4-H placed fourth. Rounding the top five, was Anne Runde of Wisconsin 4-H who also won the Holstein breed. Matthew Gunst of Wisconsin 4-H won the reasons portion.
It was hard to deny Minnesota 4-H the victory. With the top two overall individuals, they won the Youth Division, which included both 4-H and FFA competitors. Other teammates included Owen Scheffler and Leif Annexstad (twin to Matthias). Virginia 4-H had the fourth and sixth place individual and placed second as a team. Wisconsin 4-H took third followed by Iowa 4-H and New York 4-H. Sixteen youth teams participated.
Post-Secondary Division
Cobleskill ran away with the post-secondary team title – they won reasons and every breed division with the exception of Brown Swiss. They topped Kaskaskia by 39 points. Morrisville, Michigan State-Ag Tech, and Southwest Wisconsin Technical College rounded out the top five.
When the final tallies were made, Bryce Windecker led the pack by nine points and earned high individual overall honors. He was followed by teammate Angela George, Kaskaskia College's Cole Kruse, Cobleskill's Laura Littrell, and Kaskaskia's Amanda Engelken.
University Division
The University of Minnesota claimed their fifth straight title at this contest in a field of 16 universities. Three individuals earned top 10 individual honors solidifying their victory. The Golden Gophers team included high individual Emily Annexstad who also won reasons by 6 points. She was joined by Eva Doornink, Sierra Swanson, and Kaleb Kruse. The three lady Gophers also claimed the top three reasons scores in the contest and captured the team honors by 18 points.
Oklahoma State University took reserve collegiate honors. Team members were second place high Individual Justin Chupp, Erin Leach, Lora Wright, and Shane Robison.
The Ohio State University placed third. Team members were Lauren Almasy, Deanna Langenkamp, and Sarah Lehner. Taking fourth was the University of Wisconsin-Madison, followed by Penn State.
In the individual contest, Annexstad and Chupp led the way, followed by Tarleton State University's Autumn Lippy. Belle Dallam of Penn State, and Bryanna Anderson of Colorado State followed in fourth and fifth. Rounding out the top 10 were Ohio State's Deanna Langenkamp and Lauren Almasy, University of Minnesota's Eva Doornink, and University of Wisconsin-Madison's Emma Gwidt, and University of Minnesota's Sierra Swanson.
---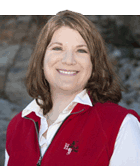 The author is the online media manager and is responsible for the website, webinars, and social media. A graduate of Modesto Junior College and Fresno State, she was raised on a California dairy and frequently blogs on youth programs and consumer issues.