Everywhere you look, the only thing in front of us seems to be COVID-19. The uncertainty in everything is tiring. Trying to make future plans for many has been completely put on hold to accomplish the everyday.
That aspect of this quarantine life has left me extra appreciative of farm life. During this past Easter weekend, I was able to really focus on unplugging from the outside doom and gloom. I put my phone down to just focus on our family and farm life. Along the way, I counted my blessings.
How lucky we are in this line of work that for the most part the daily hum of the dairy life is the same? Just focusing on those everyday tasks can bring a sense of peace to the mundane routine. We can still enjoy that normal pace of life that the average person is currently missing.
What a blessing as well to work outdoors. In general, I believe farmers enjoy being outside in nature, and I truly can't imagine being cooped up in an apartment in a big city during quarantine. I truly enjoyed soaking up the sunshine, fresh air, and farm country space with that in mind.
Having my kids home from school has me especially appreciative of all that outside space as well. As a farm mom, I'll admit that juggling distance learning with farm life has been a challenge. We honestly can't do it all, but the learning that is happening on the farm, in my view, completely counts as schooling. I'm even more appreciative of our teachers and my choice to not homeschool!
This weekend was exactly what I needed to remember the blessings this dairy life brings. When we can't control situations at least we can choose our mindset. I hope you all can find a way to soak up the sunshine and find the silver lining in this crazy situation.
---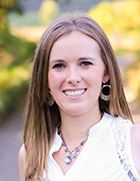 The author is a third-generation dairy farmer from Oregon where she farms in partnership with her husband and parents. As a mother of two young boys who round out the family-run operation as micro managers, Darleen blogs about the three generations of her family working together at Guernsey Dairy Mama. Abi-qua Acres Mann's Guernsey Dairy is currently home to 90 registered Guernseys and transitioned to a robotic milking system in 2017.