When trying to formulate an idea for this week's blog, I honestly couldn't decide if I needed to stay away from anything to do with COVID-19 or not. Maybe I should have written about something else to try and provide a breath of fresh air, but here's my two cents on a student's perspective during these times.
Now, I'm not looking for sympathy for students. If anything, agriculture and dairy kids are the ones that seem to be able to overcome the most trying circumstances and make it look like a breeze. Why? Probably because they've been taught it's the norm, or at least, that's how I've felt.
Only within the past couple of years have we started to talk about mental health in agriculture. Again, why? Because producers and their families have been pushed and shoved around by problems time and time again. Although this is almost contradictory to the previous paragraph, it also makes a lot of sense. Farmers and farm kids seem to be the most adaptable group of people no matter the situation, but there comes a time when enough is enough.
What does all of this have to do with our students at home? I'm getting there. By this point, I would like to reiterate that I did not grow up on a dairy specifically, so I could never 100% empathize with others, but I'll do my best.
Despite not growing up on a dairy, I have a plethora of friends that have been kind enough to share with me what they're going through at home right now. I won't name names because I'm sure they're one of many going through these emotions each day.
One friend explained the balance of being at home and trying to still do classwork this way, "It isn't that bad until it is." My friend's day starts off with chores then the full-time college student eats lunch, does more chores, grabs dinner, and then it's "time for school." My friend is one of the few that doesn't have specific times scheduled for online Zoom classes to meet in real time. Additionally, the student is still expected to complete group projects with classmates that are states away. Again, it "isn't that bad until it is."
Another friend actually does have quite a few classes that require real time computer meetings each day. That classmate said, "Being at home is different. I want to help my family, but do I ignore my classes? They're doing so much, and I feel like I'm just staring at a computer screen."
Maybe I sound like I'm turning something really not that big into something immense. However, we see what's going on. We might be young, but we see it. We know our parents and family members are worried.
Start a conversation. Ask us specific questions about our classes. If you ask, "How are classes going?" you are almost guaranteed a "fine." After all, talking about classes may give us a breather from everything else going on! Talk to each other.
---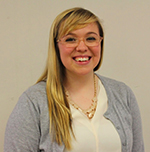 Sarah Thomas grew up in Pittsboro, N.C., showing and raising dairy heifers. Thomas attends Virginia Tech, majoring in dairy science with minors in agricultural economics, communication, and Spanish. On campus, she's involved with Dairy Club, Sigma Alpha, and has been a member of the Virginia Tech dairy judging team. Thomas was the 2019 Hoard's Dairyman summer editorial intern.