If you are like me, you know that it's smart to stay updated on everything going on; however, you also enjoy the times where everyone isn't talking about COVID-19. During these times, there's nothing wrong with "going through the motions," but there's also no shame in spicing it up a bit, too.
I'll also readily admit that some of us don't have much time to spare on the farm this time of year, but there's something to be said for finding time to pursue a new project or hobby. Here are three ideas to do just that:
1. Learn a new language
The advantage of learning a new language is pretty obvious to those in the dairy industry, which is boosting your ability to converse with your fellow employees on the farm. According to the Eton Institute, learning a new language can also improve your memory, enhance decision-making, promote networking skills, and make you more conscious about the intricate areas of your first language.
Lately, I've been completing more lessons on the Duolingo app to upgrade my Spanish-speaking skills. Duolingo also offers podcasts to help non-native speakers become more familiar with a language of their choice. No matter what method you choose to learn a new language, don't be afraid to make mistakes! This is what helps us learn and improve. Whether you're just getting started or have some experience, there is always a way to keep going.
2. Focus on you
To be transparent, these times are tough. I say that, but I truthfully cannot empathize with how tough they are for dairy producers. I've experienced my own battles with mental health, but here are some strategies to concentrate on ourselves a little more:

Tell yourself something you're good at or give yourself a compliment. A positive mindset can go a long way.
Journal something you're grateful for. Whether it's a bullet point or five pages, writing something down makes it more real.
Open up to someone. Obviously, this is a lot easier said than done, but start small and you might be surprised what it can do.
Do something for someone else. This may be completing a small task for a fellow employee or doing something for a family member.
Take a break without guilt. As dairy people, we feel obligated to "go, go, go," but giving your mind a rest for five minutes can dramatically change the day.
3. Never stop telling the tale
As a Facebook user, I have been amazed at the rise of posts discussing our industry, where our food comes from, and the details behind it all. Whether it's unveiling industry struggles or new ideas such as home delivery for creameries, we have to keep telling our story to be heard.
Sharing a post or bringing it up in the next phone conversation you have can initiate a deeper conversation. Yes, it might seem a little awkward at first to explain to our friends and family about what is going on right now, but dairy has one heck of a narrative and it deserves to be heard.
---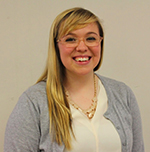 Sarah Thomas grew up in Pittsboro, N.C., showing and raising dairy heifers. Thomas attends Virginia Tech, majoring in dairy science with minors in agricultural economics, communication, and Spanish. On campus, she's involved with Dairy Club, Sigma Alpha, and has been a member of the Virginia Tech dairy judging team. Thomas was the 2019 Hoard's Dairyman summer editorial intern.