Located in Blackstone, Va., Richlands Dairy and Creamery is home to multiple generations of the Jones family that continue to work day in and day out to provide consumers with their best products, service, history, and knowledge.
The land has been in the family since the 1700s, but the Joneses began dairying in 1952. With a strong family history and the yearning to keep that alive, they decided to open a creamery, which they broke ground on in 2018 and opened in 2019.
Like many, the Joneses didn't think they would be facing a global pandemic–especially in the beginning days of their new enterprise. Despite the hardships, the family has formulated innovative methods to keep their budding business alive. One of the primary ideas is their drive thru and call ahead services that offer meals through "The Kitchen Table at Richlands Creamery," dairy products, and other merchandise from surrounding farms.
"To be able to remain open and have the business we've had and the support we've been given is just really humbling and truly amazing," according to founder and owner of the creamery, Coley Jones Drinkwater. "People are coming and waiting in line for an hour or more to get ice cream and food from us." This excerpt specifically comes from the farm's frequent "Joys and Concerns" feature via Facebook Live!
Coley says, "While we have been really busy, we have been trying to minimize those wait times — especially for the call ahead orders. I know those have been particularly frustrating for some people." She mentions that, "Our phone is constantly ringing." The family and business' transparency with what they're facing seems to bring customers back for more.
Aside from what the business is tangibly offering to their consumers, the Jones family is also keeping the spirit of dairy alive through their extremely active social media accounts. One of their latest posts features them participating in Farm Bureau's Agriculture in the Classroom endeavors to showcase the journey of milk.
The family has also featured a variety of opportunities for their customers to interact with them including posting their menus online and on social media, providing live music on Facebook, taste testing ice cream on Facebook Live, reading stories with cows, offering food bank donation setups, donating a gallon of milk for every 10 sold, and seasonal posts such as that for Earth Day. Their Earth Day post explained how cows take feeds such as cottonseed, brewers grain, and citrus pulp and turn them into something delicious.
"We're constantly learning. We're constantly tweaking and trying to provide you all with a great service," Coley mentions. "We look forward to the day you can again park and come in, order directly from us, and sit on the porch and just enjoy it."
---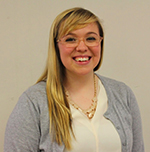 Sarah Thomas grew up in Pittsboro, N.C., showing and raising dairy heifers. Thomas attends Virginia Tech, majoring in dairy science with minors in agricultural economics, communication, and Spanish. On campus, she's involved with Dairy Club, Sigma Alpha, and has been a member of the Virginia Tech dairy judging team. Thomas was the 2019 Hoard's Dairyman summer editorial intern.