June is coming . . . did you read that ominously, like from Game of Thrones? You should have because June is almost here, and it's looking like it's going to be a battle. Online, at least.
On Facebook, animal activist groups are already creating groups with the sole intention of organizing themselves to attack dairy farm pages. They're actually already doing it. Is it annoying? Yes. Are they relentless? Usually. Does it make us regret what we're doing? Absolutely not. I probably sound like a broken record, but all it proves is that we need more farmers to be telling their stories.
When people message me about starting a farm page, the number one reason they cite for not having done it sooner is being afraid of the activist attacks. Until you reach hundreds of thousands of followers, the attacks may come, but they're not worth dwelling on. In my experience, they last a few days or maybe a week and then everyone moves on.
What remains when the activist tornado moves on is the messages they left behind. Those messages aren't just activists but also supportive comments other farmers fighting for and encouraging you. In my experience, consumers send you private messages afterward asking genuine questions. They don't ask them while you're being attacked because they don't want to get entangled in the hate from the activists.
Every time activists comment, share, or angrily like the posts on your page, they push it further up Facebook's algorithm and more people see it. It may not feel that way while you're going through it, but sharing your story is worth it. If you're not going to actively talk about your own farm, at least consider sharing what others do. If you see activists attacking someone else, stick to leaving encouraging or supportive comments for that farmer.
If you do decide to engage, a good rule of thumb is to respond twice then walk away. By then, they'll almost always have shown their true colors with a rude comment or attacking language. The key is remembering that there is no changing their minds. Besides, that's not what we're trying to do. We're trying to show the rest of the world what we do and why we do it. We're trying to bring people back to their roots and get them in touch with life's most basic necessities.
Whether they realize it or not, by sharing photos of our animals or our tractor in the field, we're bringing consumers a little bit of the peace we feel when we're doing what we love. The least we can do is give it to them. And if you ever find yourself needing help, reach out to a fellow advocate. We've all had our ups and downs, too.
---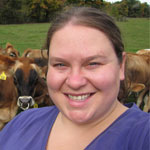 The author dairies in partnership with her parents and brother at Spruce Row Farm in Pennsylvania. Jessica is a graduate of Pennsylvania State University, and since 2015, she has been active in promoting dairy in her local community. You can find her and her 250 Jersey cows on Facebook at Spruce Row Dairy or on Instagram at @seejessfarm.