We have been blessed with gorgeous fall weather in Oregon the last couple of weeks. While temperatures are beginning to drop (although nothing compared with the snow I've already seen on many farms), we have been enjoying the sunshine. A dry fall means we've also still been enjoying having the cows on pasture!
It definitely makes me appreciate that we stuck to our plan of wanting to continue pasturing our milk cows when we transitioned to robotic milking. As we went through our research phase, there were many who told us robotics and grazing just don't work together. While we definitely aren't experts and we continue to learn, here are a few things we've found have worked for our herd over these three grazing seasons with robots.
A pasture exit gate has been the most helpful management tool. This means that a cow with milking permission does not have permission to leave the barn to the pasture. She is instead directed by the pasture exit gate to stay in the barn and must visit the robot before leaving. This keeps a cow who needs to be milked from disappearing into the pasture and becoming really overdue for milking. It has been fun to watch the cows learn this aspect of the system in a free flow barn.
The next strategy is motivating the cows to come back to the barn so they don't stay on pasture all day. We accomplish this by not having water access in the field. The cows come back for a drink and keep their robot visits up.
Lastly, we utilize an A/B pasture rotation, meaning we switch pastures every 12 hours. We use smaller strip paddocks while the grass is heavy in the spring.
Grazing and robotic milking definitely brings its challenges, and we certainly don't have it all figured out. But as fall fades to winter and we close the pasture gates, we will be dreaming of that green spring grass and looking forward to another season of grazing with robots.
---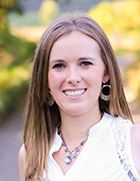 The author is a third-generation dairy farmer from Oregon where she farms in partnership with her husband and parents. As a mother of two young boys who round out the family-run operation as micro managers, Darleen blogs about the three generations of her family working together at Guernsey Dairy Mama. Abiqua Acres Mann's Guernsey Dairy is currently home to 90 registered Guernseys and transitioned to a robotic milking system in 2017.