Twas the week before Christmas, and all across the world, COVID-19 was raging, a new year 'bout to unfurl.
The stockings are hung but the visits are rare, for the virus will make all our winters more bare.
2020 has been a year like no other, but hope for the future, in our hearts, still hovers.
Despite the pandemic and rapid social change, this Christmas can still be joyful, though it might seem a bit strange.
While you might think that COVID hates Christmas, you'll see, maybe it's time to think a bit differently.
It's always been said that Christmas is not about the presents, but rather the family and friends who are present.
Well, maybe this year we can't see all those people, but instead, we make time to see it all equal.
Our farms and our families have all had it rough, so take what we've learned and gather it up.
Take it all with you, wherever you go, for the only way to overcome challenges is to grow.
You might think this holiday season was stolen by the Grinch, and for no good reason,
But I'm here to tell you that Christmas isn't about seeing people, if that were the point, the whole thing would be feeble.
It's the season of hope, joy, and forgiving, and we can do all of those things without any gift-giving
Blessings came through this year in small bursts, so take note of them all and give thanks, unrehearsed.
2020 came straight out of a history book, but as farmers, we held on, even if with a grappling hook.
So, no matter what holiday you do or don't celebrate, give thanks for a year of learning as the season, and this poem, culminate.
---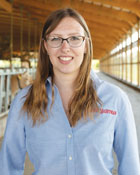 Abbie Cox grew up in Cato, N.Y. on a first-generation dairy farm and currently attends Cornell University as a member of the class of 2021, majoring in animal science with a minor in education and a focus in dairy. On campus, she is involved with the Cornell University Dairy Science Club, Sigma Alpha, Collegiate Farm Bureau, and is a Peer Adviser with CALS Student Services. Cox has interned with the MILC group, the Animal Agriculture Alliance, and was the 2020
Hoard's Dairyman
summer editorial intern.