The new year always feels like a refreshed time. Even though it is just one day different, somehow, flipping to the new year on the calendar makes it a fresh start. Usually, it's an opportunity to plan, dream, and set goals.
Like many, though, I've found myself lacking the enthusiasm to lay down any plans. 2020 taught us that the best laid plans can often end up as just a big dumpster fire, to speak plainly. If anything, a flexible, go-with-the-flow approach is much more adoptable amidst this global pandemic.
But how do you run a business without a plan? Without knowing what challenges and triumphs the year ahead will bring? At least in this sense, I am glad to be used to the unpredictability of the dairy industry when yearly planning.
That doesn't mean I wish the rollercoaster ride of up and down milk prices and government payments was ever normal. (That is another rant for another blog on how we ever possibly fix the system.) But at least in our business history, it is expected. I definitely feel for all the small businesses that have been affected throughout this unpredictable time.
As families continue to stay home, I am proud that the dairy industry can still provide quality products. Even though these are unprecedented times and it feels difficult to plan for the future in 2021, I know we will continue to provide the best care and practices for our animals and land. Happy New Year!
---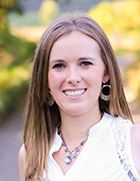 The author is a third-generation dairy farmer from Oregon where she farms in partnership with her husband and parents. As a mother of young sons who round out the family-run operation as micro managers, Darleen blogs about the three generations of her family working together at Guernsey Dairy Mama. Abiqua Acres Mann's Guernsey Dairy is currently home to 90 registered Guernseys and transitioned to a robotic milking system in 2017.