This time last year, my friends and I were driving to Baltimore for a leadership conference, where I would also celebrate my 21st birthday. A few days later I was on a train from Baltimore to Washington D.C., to participate in yet another professional development opportunity with another amazing friend. We met hundreds of new people that week. From different conference centers to walking around the Capitol Building and meeting with congressional representatives, the opportunities were boundless.
When we all piled into the car and drove to Baltimore that weekend, we had no idea that it would be one of the last normal things we did that year. I remember my mom worrying about me being on a plane as I came home from D.C, and me reassuring her that the only change was the added disclaimer about washing your hands and staying home if you were sick before we boarded.
My, how a year can change things.
As I sit in my apartment, ready to attend my next online or socially distant hybrid class (depending on the day), I often find myself longing for the days of a year ago. While this kind of nostalgia can sometimes bring up fond memories, these days it seems that mostly it creates sadness and wishes for a normal year, which is far from a productive mindset.
I read an article this week about gratitude and how the physical act of writing down things you're grateful for can do wonders for your mental and physical health. I've never been the journaling type, but I figured that it was worth a shot.
Instead of focusing energy on things we don't or can't have, practicing active gratitude shifts your focus to the things you do have and can do.
So, here is my gratitude list for today:
I am grateful to be attending college in person, at a wonderful university.
For the sunshine that has been coming out more and more as the weeks move us closer to spring.
I am grateful for my friends and my family and their constant support.
I am healthy, and so is my family.

For the experiences that I've had throughout my college career: the lessons I've learned, the people I've met, and the places I've traveled.
We are nearing the one-year mark of this pandemic, and I am cherishing the reminders of how very normal things were just one year ago, with the hope that maybe next year we can safely gather again. Until then, I am hoping to be more mindful of the blessings I have today, every day.
---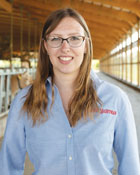 Abbie Cox grew up in Cato, N.Y., on a first-generation dairy farm and currently attends Cornell University as a member of the class of 2021, majoring in animal science with a minor in education and a focus in dairy. On campus, she is involved with the Cornell University Dairy Science Club, Sigma Alpha, Collegiate Farm Bureau, and is a Peer Adviser with CALS Student Services. Cox has interned with the MILC group, the Animal Agriculture Alliance, and was the 2020
Hoard's Dairyman
summer editorial intern.