I've worn glasses since the 7th grade. I remember the day I realized that I needed them like it was yesterday. I was at a swim meet. I needed to know what time it was so that I could prepare for my next event, but I couldn't read the clock that was hanging on the far side of the gymnasium.
At first, I wasn't sure that wearing glasses changed anything, and I started to question whether or not I really needed them. Maybe my near sightedness was just me being dramatic, or maybe it was a figment of my imagination. Then I was told to take them off and look at the emergency exit sign, and then look at the same sign with my new glasses on. I could read it. Not only could I read it, but I could do so without squinting or straining my eyes at all. Everything seemed so much clearer.
A year ago, all of our lives changed. March 12, 2020, was the last normal day before the national emergency, before the shutdowns, before everything changed so rapidly. It felt like my glasses had been taken away. Everything I once knew was different. All of our normal activities went out the window. It was like I was squinting all the time, trying to see the good through the fog of the pandemic.
To say that the last year has altered everything would be an understatement. As dairy farmers, we faced co-op changes, market shifts, base reduction programs, and so much more, all while adapting our business to keep our families and employees safe. The way that we socialize has changed. Some of us have more tools now than ever before to bridge geographic gaps and connect with friends across the country. At the same time, many of us haven't seen close friends or neighbors without masks and 6 feet of distance since this time last year.
This week I got new glasses. I had started to notice that things weren't as clear as they used to be. My eyes would be tired and sore after a day of watching lectures and taking notes, and I couldn't read the whiteboards during my classes. Again, I wasn't sure that I needed a new prescription until I got one. But now, the leaves are clear and crisp, and the writing on the whiteboard isn't blurry anymore. The pandemic clouds are clearing. Slowly but surely, we will all be able to see again.
---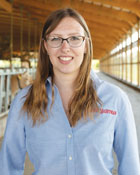 Abbie Cox grew up in Cato, N.Y., on a first-generation dairy farm and currently attends Cornell University as a member of the class of 2021, majoring in animal science with a minor in education and a focus in dairy. On campus, she is involved with the Cornell University Dairy Science Club, Sigma Alpha, Collegiate Farm Bureau, and is a Peer Adviser with CALS Student Services. Cox has interned with the MILC group, the Animal Agriculture Alliance, and was the 2020
Hoard's Dairyman
summer editorial intern.