It's been a full trip around the sun in this global pandemic life. That realization honestly has me wondering where the last 365 days have gone and almost forgetting what life was like before!
The pandemic has brought a lot of challenges to the dairy industry. Many are changes that no one could have expected for our professions and personal lives, let alone ever been prepared for.
This time last year, consumers were panic buying as we went into the first lockdown. In times of uncertainty, people reach for the necessities. We can proudly say that milk seems to always be on that list.
The challenges we've faced in the last year gave us all a chance to gain perspective. The role that dairy products play in our customers' lives, especially as comfort food, has been rewarding. Being essential is a title to take on with pride.
It definitely hasn't been easy living through a global pandemic. But as dairy farmers, I think we can be proud of the role our products have played. While we never know what the future holds, we are always able to rise to the challenges.
---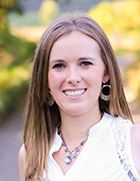 The author is a third-generation dairy farmer from Oregon where she farms in partnership with her husband and parents. As a mother of young sons who round out the family-run operation as micro managers, Darleen blogs about the three generations of her family working together at Guernsey Dairy Mama. Abiqua Acres Mann's Guernsey Dairy is currently home to 90 registered Guernseys and transitioned to a robotic milking system in 2017.