Waking at the crack of dawn is nothing new for Indiana dairy farmer Jill Houin. However, feeling like a celebrity with a police escort and a crowd of fans is not her typical morning routine.
On May 30, Houin was able to step away from her regular role on Homestead Dairy near Plymouth, Ind., to promote her livelihood. The tradition of "Winners Drink Milk" began 85 years ago and rewards the first-place racer of the Indianapolis 500 with a cold glass of milk.
Houin was selected by a committee of farmers to serve as the milk person. It is the role of the milk person to represent all dairy farmers by presenting the milk to the winner. Tim Hayne of Superior Dairy in Garrett, Ind., was chosen as the rookie milk person and will advance to the official milk person next year.

Marrying into the lifestyle of dairy farming, Houin said at first she did not understand the amount of passion it takes to run a dairy operation. "It was a culture shock," admitted Houin. "Now, I just love teaching people about agriculture and the dairy farm."
Houin works full time on the 4,900-head dairy alongside her husband, 14 family members, and 60 employees. Some of her tasks include caring for calves, creating social media content, and giving tours.
Fully understanding and sharing the passion for dairy, she was honored to represent the industry. Thinking back to awarding the 2021 Indy 500 winner, Hélio Castroneves, his glass of milk, Houin said, "When that hand off happened, it was energizing. We both worked hard to get to this point."
During the broadcast, ESPN mentioned that this tradition has the "coolest" trophy among all sports. Before the event, all racers were asked if they would prefer skim, 1%, 2%, or whole milk if they won. As the race came to a finish, Houin had to review the results to make sure she was giving the winner the kind of ice-cold milk they requested.

Houin said this tradition is a celebration for dairy farmers across the whole country. She shared, "I learned how passionate these families are to produce milk for so many people, and I think it means so much to be celebrated on this scale."
Not only were dairy farmers excited about the milk spotlight, but so was Castroneves. Houin said his reaction was thrilling as he chugged the milk and poured it over his head. Although he was uncertain of what the results would be, he packed pink food coloring just in case to add to the milk to match his uniform.
Although Houin will not be in the winner's circle next year, she is determined to celebrate with a glass of milk from wherever she is watching the race. She encourages everyone to join her in a tribute to dairy.
---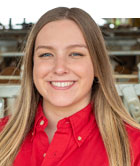 Jessica Schmitt
Jessica Schmitt grew up working on her family's dairy farm near Fort Atkinson, Iowa. She recently completed her junior year at Iowa State University where she is triple majoring in dairy science, international agriculture, and agricultural and life sciences education with a communications option. Schmitt is serving as the 2021 Hoard's Dairyman editorial intern this summer.