When the reigning Reserve Grand Champion of the International Ayrshire Show strutted on to the purple shavings at the 2021 World Dairy Expo, it was clear the 9-year-old cow wasn't going to settle for anything less than the top.
For official judge Michael Creek of Hagerstown, Md., and Canada's Jamie Howard, the associate judge, Marilie Gentleman Karmina was deserving of the Grand Champion title.
"She earned it. She earned it the hard way," Creek stated. "She ran calves through that udder. She's milked and come back while maintaining her quality, correctness, angularity, and mammary system."
The Six-Year-Old and Over Cow was also named Senior Champion and is owned by Budjon Farms and Peter and Lyn Vail of Lomira, Wis.
The Reserve Grand Champion was Palmyra Predator B Ruthless-ET owned by Kurt Wolf and John Cannon of Epworth, Iowa. The junior 3-year-old was also named Intermediate Champion.
The Reserve Senior Champion, Toppglen Wishful Thinking-ET, came out of the 100,000 Pound Cow class. She is owned by Tanner, Brennan, Marissa, and Logan Topp of West Salem, Ohio, and was also named the Grand Champion and Senior Champion of the Junior Show.
The Reserve Intermediate Champion was junior 3-year-old Miss Malibu Mimosa, bred and owned by Duane Cole, Michelle Wolf, and Mellissa Burns of Epworth, Iowa.
Winning the Heifer Show was Illinois's Mackinson Gentle Dreams. The fall calf is owned by Ava and Eli Faber. The Reserve Junior Champion was Hawver-Crest Don't B Suspicious of Walkersville, Md., out of the Spring Calf class and owned by Glamourview-Iager and Walton.
In the Junior Show, the Reserve Grand Champion was Family Af-Ayr Maxxx Deamer. The senior 3-year-old also won Intermediate Champion of the Junior Show and is owned by Rachel Hefel and Mark Fisher of Epworth, Iowa.
Reserve Senior Champion of the Junior Show went to River-Valley Gavin's Brooke. The lifetime component merit cow is owned by Megan, Johnathan, Bradley, and Sarah Hill of Bristol, Vt.
Also from the Senior Three-Year-Old class, the Reserve Intermediate Champion of the Junior Show was Moy-Ayr Burdette Lightning-ET, owned by Steve, Pauline, Rebecca, and Emily Schmidt of Delavan, Wis.
The Junior Champion of the Junior Show was Wingert's Bigtime Journey. The spring yearling is owned by Avery Kotlarczyk and Eva Gilmore of Bradenton, Fla. The Reserve Junior Champion was Wisconsin's Flambeau Manor King Bacardi. Isabelle Vandoom exhibited the fall heifer.
Premier Breeder of the show went to Old-N-Lazy of Epworth, Iowa, and Peter Vail of Englewood, Fla., was named Premier Exhibitor. Palmyra Berkely Reagan-ET was the Premier Sire.
Hoard's at Expo is sponsored by Agri-Plastics Group of Companies
---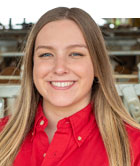 Jessica Schmitt
Jessica Schmitt grew up working on her family's dairy farm near Fort Atkinson, Iowa. She recently completed her junior year at Iowa State University where she is triple majoring in dairy science, international agriculture, and agricultural and life sciences education with a communications option. Schmitt served as the 2021 Hoard's Dairyman editorial intern this summer.