For 7-year-old Maple Fudge Of 12 Oak and her leadswoman, Ashley Brandel, an invite to the Supreme Champion selection is nothing new, but it is just as rewarding. In 2016, Fudge made her first appearance at World Dairy Expo and as a junior 2-year-old, won Intermediate Champion and Grand Champion of the Junior Show.
The next year, the duo of Fudge and Brandel returned to the Expo grounds to reclaim the same titles. In 2018, they took their success a step further, receiving not only Senior Champion and Grand Champion of the Junior Show but also of the International Milking Shorthorn Show.
Three years later, they did it again at the 2021 World Dairy Expo. Fudge, owned by siblings Colton and Ashley Brandel of Lake Mills, Wis., won the Lifetime Merit Cow Class, Senior Champion, and Grand Champion of both shows.
When selecting the Grand Champion of the International Milking Shorthorn Show, Judge Dean Dohle of Pleasant Hope, Mo., and associate judge Keith Fisher of New Enterprise, Pa., did not hide their emotion.
When selecting the winner, Dohle couldn't contain his excitement and marched directly to shake Brandel's hand. "There's just no denying this cow," Dohle said.
The Reserve Grand Champion title went to Corstar Presto Lulu-ET. The Aged Cow is bred and owned by Cory and Kristen Salzl of Litchfield, Minn., and was also named Reserve Senior Champion of the Milking Shorthorn Show.
The winning senior 3-year-old, Gin-Val Logic Lauretta-EXP, bred and owned by Johnathon Clark of Cornish, N.H., won Intermediate Champion of the Open and Junior Show. The Reserve Intermediate Champion of the Junior Show, Gin-Val Princeton Leanna-EXP, is owned by the same exhibitor. Clark was also presented with the Keith King Showmanship Award.
The Reserve Intermediate Champion of the international show was Hard Core KY-Blue Abigail-EXP, a junior 3-year-old owned by Taylor Graves of Danville, Ky.
The Junior Champion and Reserve Junior Champion hail from the Summer Yearling Heifer class. Valley View Fires Ash-EXP, owned by M. and C. Gregory, M. Upchurch, and S. Wolf of Illinois won Junior Champion. The Reserve Junior Champion, Bagley Bog TC Miss Merica, is owned by Misty Meadow Dairy of Tillamook, Ore.
In the Junior Show, Heavenly Hominy-EXP won Reserve Senior Champion. The 4-year-old is owned by Brett Ritschard of Heavenly Show Cattle of Monroe, Wis.
The Junior Champion of the Junior Show was Ashley Brandel's Winter Yearling Heifer, Maunesha Creek Easy On The Eyes-EXP. The reserve was Lazy M Jekyll Zella-EXP. The Fall Yearling Heifer is bred and owned by Britton and Cameron Allen of Stitzer, Wis.
The International Milking Shorthorn Show had 208 entries. The Premier Breeder Award went to Wisconsin's Herman and Michael Maier of Lazy M Farm. Peter Vail of Englewood, Fla., was the Premier Exhibitor, and North Stars Presto-ET-EXP was the Premier Sire.
Hoard's at Expo is sponsored by Agri-Plastics Group of Companies
---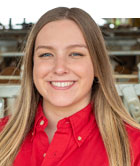 Jessica Schmitt
Jessica Schmitt grew up working on her family's dairy farm near Fort Atkinson, Iowa. She recently completed her junior year at Iowa State University where she is triple majoring in dairy science, international agriculture, and agricultural and life sciences education with a communications option. Schmitt served as the 2021 Hoard's Dairyman editorial intern this summer.