When is the last time you changed up your view for a fresh perspective? I believe one of the easiest ways we can get stuck in life is to stop exploring, growing, or learning . . . whatever you want to call it. Changing up that lens in life can truly reset your mind. It's easier said than done, I know, but sometimes taking that step to just get a different view can be life changing.
The repetition of farm life makes it easy to get stuck in that same perspective. When we literally have the same view for 365 days a year, it leads to very easily becoming stuck when presented with a problem or even just difficult to truly seeing our blessings.
Fresh perspective can be the biggest helper in problem solving. We get in the routine of getting things done in a way that works for our farm. When that no longer is successful, a change is needed. A different view or even outside fresh set of eyes can be the biggest asset to the solution.

How do we apply that same concept to the larger challenges of the dairy industry as a whole? How do we take the step to always keep a fresh perspective on pricing, oversupply, animal care, climate change, and the continuous list? It takes creativity and the willingness to always be able to consider different views to accept the best path forward. On this global, constantly changing stage, that means always looking for that new view.
More often than not we take for granted how truly blessed we are with our everyday view. Without stopping to truly see it, the magic and beauty can easily be missed. Sunrises and sunsets, new life, the changing of the seasons, the roots and generations of a family's hard work, and the very origins of nature's most perfect food are all right in front of our eyes every day. How often do you dig deep to appreciate that perspective?
The dairy industry is a complex, constantly moving and changing occupation. Remembering to take the step to keep a fresh perspective can be our biggest ally in the grand scheme of things and our biggest reminder of just how truly special our everyday view really is. Take it in with fresh eyes today. Take that step to get a different view.

---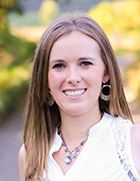 The author is a third-generation dairy farmer from Oregon where she farms in partnership with her husband and parents. As a mother of young sons who round out the family-run operation as micro managers, Darleen blogs about the three generations of her family working together at Guernsey Dairy Mama. Abiqua Acres Mann's Guernsey Dairy is currently home to 90 registered Guernseys and transitioned to a robotic milking system in 2017.