Part of our magazine's storied past includes the Hoard's Dairyman Farm, which was established in 1899 by W.D. Hoard himself. For more than 120 years, we have owned and operated the farm just north of Fort Atkinson, Wis.
From milking by hand to the introduction of voluntary milking systems three years ago, the farm has changed over the years. One element that has stayed the same, though, has been the Guernsey cow. The Hoard's Dairyman Farm was established with this docile breed, and today, we are the oldest continuously registered Guernsey herd in North America.
The American Guernsey Association recently released its production award winners for 2021, and once again, the Hoard's Dairyman Farm was the country's Top Commercial Herd. This award is based on energy corrected milk (ECM) for herds with 50 lactations or more. In 2021, the Hoard's Dairyman Guernseys averaged 23,604 pounds of ECM on 214 lactations.

The farm ranked sixth overall in milk production, with an average of 19,792 pounds. The herd was third overall for protein production (3.52%, 695 pounds) and sixth for fat (4.76%, 936 pounds). For herds with more than 50 Guernseys, the Hoard's Dairyman Farm ranked first in these three categories.
Another notable recognition is the Lifetime Living Award, one of the highest honors bestowed by the American Guernsey Association. The most recent winner of this award, which celebrates longevity and productivity, is Dairyman Lewis Petals, a cow bred and owned by the Hoard's Dairyman Farm. She was the 2021 Living Lifetime Award winner for milk, fat, and protein, with 232,487 pounds of milk, 10,719 pounds of fat, and 7,802 pounds of protein over 10 lactations. Petals produced over 20,000 pounds of milk in eight of her lactations, and as an 8-year-old, she made her best record of 27,750 pounds.

The protein runner up for this Living Lifetime Award also came from the Hoard's Dairyman Farm. Dairyman Daunte Tamale made 214,941 pounds of milk with 7,512 pounds of protein in 10 lactations.
Our herd's success can be credited to our farm manager, Jason Yurs, who has managed the herd and staff at the farm for two decades. He and the farm team work hard all year long to keep the herd performing at a high level, and we are thankful for that. We are also thankful to have the farm located less than two miles from our office, because it serves as one of the unique ways our editorial team stays connected to the dairy industry and the farmers who read the pages of Hoard's Dairyman.

---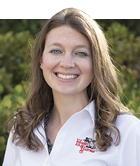 Abby Bauer
The author is the senior associate editor and covers animal health, dairy housing and equipment, and nutrient management. She grew up on a dairy farm near Plymouth, Wis., and previously served as a University of Wisconsin agricultural extension agent. She received a master's degree from North Carolina State University and a bachelor's from the University of Wisconsin-Madison.