If I've said it once, I've said it a thousand times: farming is a team sport. I don't care who you are, what you farm, or how big your farm is, you cannot and do not farm alone.
Sure, maybe you're out there hauling manure by yourself. Maybe you milk all the cows, feed all the calves, and mow all the hay, too. But who makes sure your tank is full when you need to refuel that tractor? Who provides you with the inflations or milking supplies you use to keep your equipment functioning and your cows healthy? Who sets out the parts when your manure spreader breaks at noon on the Saturday before a long holiday weekend? Is it you? Do you do all of those things, too? I'm betting the answer is no. Which brings me back to my original point. Whether you admit it or not, farming is a team sport.
Can I be honest with you? Two years ago, when COVID hit, I got a little bitter. At the end of every TV talk show and on every celebrity's social media feed, the same list of essential workers was thanked and appreciated. And just about every single one of them left off farmers. I'm not saying we were more deserving than say, healthcare workers or first responders; I'm just saying we should've at least made the list. I kind of felt forgotten. I definitely felt underappreciated and probably a little bit disrespected. But think about it — as farmers, don't we do the same thing?
Yes, farmers are the backbone of the food industry, but we couldn't do what we do without all of the people around us. I'm not just talking about the obvious players like your veterinarians, nutritionists, semen salesmen, and milk inspectors. I'm talking about the guy who stops by once a year to refill all of your fire extinguishers. Or what about the dude who shows up at 2 a.m. to empty your dumpsters? How about the 18-year-old kid who stocks our milk at Walmart part time? We tend not to consider those people as part of our farm team, but they are, aren't they? Try living a week or two without them if you don't agree. Our barns would burn, our dumpsters would be overflowing, but none of that would matter because it's not like there'd be any product on the shelves to sell anyway.
One of our favorite facts to claim is that less than 1% of the population are farmers feeding the other 99%. Part of me wonders if that's true. Maybe less than 1% are actually out there in the barn treating cows and scraping manure, but what about the truck driver who picks up our milk and hauls it to the plant? Is he any less involved in the process than a farmer is? We couldn't do what we do without people like him. So, cheers to all of our teams! May yours be as awesome as mine is.
---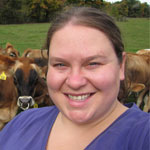 The author dairies in partnership with her parents and brother at Spruce Row Farm in Pennsylvania. Jessica is a graduate of Pennsylvania State University, and since 2015, she has been active in promoting dairy in her local community. You can find her and her 250 Jersey cows on Facebook at Spruce Row Dairy or on Instagram at @seejessfarm.