A few weeks ago, I had the opportunity to get in the middle of the ring and judge showmanship at a regional contest. I love judging any type and size of show, but I especially enjoy showmanship.
It's something I have appreciated since my 4-H days. I liked that I always had a chance when I entered the showmanship ring regardless of how phenotypically correct my heifer was. Showmanship was and still is about how the leadsperson interacts with the heifer to make her look her best. In showmanship, you can tell the hours the young person spent with his or her animal, honing their craft and training the heifer or cow to respond quickly and correctly to every command.

As I stood in the center of the ring, I identified three of my favorite types of young people to watch on the halter, although I will admit these individuals don't always win. For those that spend time around shows, I think you will relate and maybe have one or two to add to your own list.
The over-shower. I love this person because you can always tell their passion. He or she wants everything to be perfect. Of course, I have a soft spot for this showmanship type because I was this person as I was always messing with my heifer when I should have been just leaving her alone.


The encyclopedia. I always know that this showman works with their animals year-round and is dialed into dairy beyond the showring. This leadsperson is all about the questions. Ask them if their heifer is bred, and they will not only tell you when she's due but also what bull she is bred to.


The rule follower. This young person has studied the PDCA (Purebred Dairy Cattle Association) rule book and follows it to a "T." I always admired this showman when I was a 4-H member because they had spent the hours to know exactly what was expected of them and delivered it in the ring.
I know many spring shows and clinics are already under way. If you are a junior or parent to a showman and feel lost on the showmanship rules, I highly recommend both the PDCA scorecard and Holstein Association's resources, which can be found at www.holsteinfoundation.org/education/showmanship.
Both will give you a great starting point for learning showmanship. From there, it really is all about practice and dedication to learning. The most important thing that I think is evident in every good showman is this – being in the ring with their animal brings them joy and it's obvious from the way they show. Go out there and have fun!
---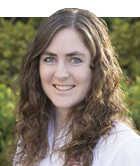 Maggie Gilles
The author is a dairy farmer in Kansas and a former associate editor at Hoard's Dairyman. Raised on a 150-cow dairy near Valley Center, Kansas, Maggie graduated from Kansas State University with degrees in agricultural communications and animal sciences.