Creating a cattle sale through a collegiate student organization is no easy task. This was my exact thought when some of my classmates wanted to start a dairy cattle sale at Virginia Tech. Now that we have our second annual sale under our belt, I wanted to share what we learned through this process.
The ultimate question is, where do we begin? You need to know what your goals are for the sale, who are your potential buyers and what are your limitations. For us, we wanted to raise money for the judging team, and this became our goal. Our audience and limitations were a tougher discussion. As a group of college students, we analyzed our location and decided an online sale was the way to go. We felt having live animals on campus would be hard to monitor due to the lack of students available to help. The location of Blacksburg, Va., would not generate a large enough in-person audience, either.
Once you set up the groundwork, you need to determine what kind of consignments you want. Our team decided to focus on embryos from all breeds. This can vary for you depending on your group's interests and what you want to be responsible for.
After you know what to ask for, you need to know who to contact for those lots. The best advice I can give anyone is to lean on your connections. By reaching out to breeders, industry professionals, and even alumni, they were able to suggest other people that we could approach for consignments. Some connections even helped us promote our sale.
Especially in the beginning, people will have little knowledge of your sale, so you need to build awareness. You want to be sure that you are promoting your lots as best as possible. We created a Facebook page in order to post our consignments and allow potential buyers to message us with questions.
My final piece of advice is to be transparent and open with new members of your sale staff. It is hard to expect everyone on your team to have the same skills, and for a collegiate sale, your committee will change more frequently. Be sure your graduates leave the remaining members with the resources they will need to continue the sale. Also, disperse the responsibilities to encourage more students to be a part of the team.
---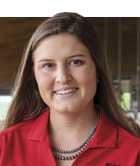 Madison Sifford
Madison Sifford is the 2023 Hoard's Dairyman Editorial Intern. She is a student at Virginia Tech majoring in dairy science and communications. Madison grew up in North Carolina before moving with her parents and sisters to Goldvein, Va. Her family raises Holsteins on their Plessed-Rose Dairy, and they also have a small Hereford cow-calf operation.