There's something about the warm glow of summer sunshine that puts everything into the perfect light. I find it's best enjoyed in the evening, when those golden rays shine on a day's work well done. The calm of those late evenings arrives when you know you've done your best as the sun sinks below the horizon.
Others find that sense of brightness in the summer mornings. An early sunrise holds the promise of another good day as those eastern rays of light slowly rising to dawn.
Summer is all about sunshine. As farmers, our dependence on that bright orb in the sky can be a fickle dance. Too much and we are asking for a reprieve. Yet we need this season of growing to provide through the rest of the year.
It always causes me to pause when you truly realize our existence and survival comes down to sunshine and water. Without those two things, nothing would grow. And still, overabundance of either one can also be a recipe for disaster.
I know many throughout the country are feeling the pressure of too much sun and not enough rain. I hope at some point in this growing season we all can actually enjoy the sun while not having to worry about doing the rain dance.
---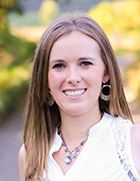 The author is a third-generation dairy farmer from Oregon where she farms in partnership with her husband and parents. As a mother of young sons who round out the family-run operation as micro managers, Darleen blogs about the three generations of her family working together at Guernsey Dairy Mama. Abiqua Acres Mann's Guernsey Dairy is currently home to 90 registered Guernseys and transitioned to a robotic milking system in 2017.