Clippers buzzed, hair flew, and animals shone as the Youth Fitting Contest began the events of the 2023 World Dairy Expo on Saturday morning.
In all, 43 dairy enthusiasts from 10 U.S. states and two Canadian provinces participated in the event that tests young people's skills in preparing cattle for the showring. They had hopes of taking home the new Overall Fitter Award, now given in memory of the late cattle fitter Michael Heath.
Savannah Crack from Richmond, Quebec, was presented with the inaugural $500 cash award at the end of the warm day in the Sale Pavilion. She topped the senior female division (ages 17 to 20) earlier in the competition, earning a pair of clippers sponsored by Clipper Parts & Repair for that recognition.
Also earning a pair of clippers was Hayden Reichard of Chambersburg, Pa., for being the top senior male. Doug Nifong of Orfordville, Wis., judged the senior divisions.
Among the intermediates (ages 13 to 16), Kayla Trustem of Evansville, Wis., and Tyler Leuch from Waunakee, Wis., were the winners and received fitting mats presented by Mill Wheel Show Clinics. Their judge was Kaleb Kruse from Dyersville, Iowa.
During the competition, contestants had one hour to fit their animal for the showring. Only the head, neck, and legs may be clipped prior to the contest. The top five finishers in each division received neck medallions and cash prizes. The rest of those individuals were:
Senior female:
2. Cassie Gebert, Wawaka, Ind.
3. Adhyn Schell, Lewiston, Minn.
4. Ellie Larson, Evansville, Wis.
5. Aisja Achenbach, Eastman, Wis
Senior male:
2. Preston Welling, Paynesville, Minn.
3. Suton Paulson, Rockford, Ill.
4. Cadin Valentine, Thurmont, Md.
5. Keaton Phoenix, Uxbridge, Ontario
Intermediate female:
2. Hannah Gingerich, Shippensburg, Pa.
3. Lindsey Gibbs, Rollingstone, Minn.
4. Jazlynn Olson, Galesville, Wis.
5. Amelia Somers, Walton, N.Y.
Intermediate male:
2. Carter Major, Lebanon, Tenn.
3. Matthew Winch, Fennimore, Wis.
4. Jayse Pudwill, Dakota, Ill.
5. Ethan Staudinger, Reedsville, Wis.
Congratulations to all the participants in this year's contest!
---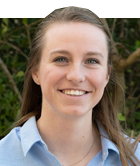 Katelyn Allen
Katelyn Allen joined the Hoard's Dairyman team as the Publications Editor in August 2019 and is now an associate editor. Katelyn is a 2019 graduate of Virginia Tech, where she majored in dairy science and minored in communication. Katelyn grew up on her family's registered Holstein dairy, Glen-Toctin Farm, in Jefferson, Md.