For many youth, the culmination of their junior dairy judging career rests on the Intercollegiate Dairy Judging Contest at World Dairy Expo. Years of practice, a love for dairy cattle, and a brain full of reasons terminology are put to the test during a long day of judging classes, giving reasons, and waiting for the results.
When the final awards were announced at the banquet held Sunday night following the 2023 national contests, the University of Minnesota judges and their coaches had plenty to smile about. That's because their team was named the winner of the 2023 Intercollegiate Dairy Judging Contest.
This was Minnesota's third winning team in the past decade. The Gophers earned 2,545 points in the high scoring contest, 53 more points than second place Cornell University. The team was first in Ayrshires, Brown Swiss, Milking Shorthorns, and Red and Whites. They also won the reasons portion of the contest, outtalking the second place reasons team of Virginia Tech by 19 points.
Leading the way for the University of Minnesota team was Ben Styer, who received high individual honors. He earned 871 points on the day, missing just 29 points in the whole contest. He also won oral reasons. Further highlights for Styer included a first place finish in Red and Whites, second in Holsteins, third in Brown Swiss, and third in Milking Shorthorns. He was also second in the placings only portion of the contest.
Teammate Isaac Rott had himself a fine day as well, finishing third overall. He was first in Brown Swiss and Milking Shorthorns and fourth in oral reasons.
Fellow Minnesota judge Kelsey Biel also earned All-American recognition, placing in the top 25 as the 17th overall individual. She was second in Brown Swiss and third in Guernseys. The team was rounded out by Haley Beukema and was coached by the trio of Les Hansen, Eric Houdek, and Gabriella Houdek.
Taking second place individually was Salem Sifford, a member of the Virginia Tech team. She was also third in oral reasons, following behind Styer and Elise Bleck from the University of Wisconsin-Madison. Bleck was the fourth high individual overall. Finishing in fifth individually was Iowa State University's Colton Silveira, who won the placings only part of the contest. His teammate, Delana Erbsen, was sixth overall.
Cornell University's second place team was led by Adam King, who finished seventh individually and sixth in reasons. Other team members included Jade Atherton, Rachel Van Buren, and Sophie Woodis. Their team was coached by Kevin Ziemba.
In third place was Virgina Tech, a team coached by Katharine Knowlton and Jaiden Cain. Iowa State, coached by Christen Burgett and Mary Fliehler, was fourth, while University of Wisconsin-Platteville, coached by Cory Weigel, finished fifth. In all, 19 teams participated in this year's contest.
---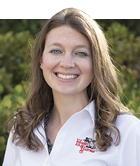 Abby Bauer
The author is managing editor and covers animal health, dairy housing and equipment, and nutrient management. She grew up on a dairy farm near Plymouth, Wis., and previously served as a University of Wisconsin agricultural extension agent. She received a master's degree from North Carolina State University and a bachelor's from the University of Wisconsin-Madison.