When it came down to the end of the Post-Secondary Dairy Judging Contest on Sunday night, there was little suspense as to who the overall champion would be.
The crowd gathered in the Tanbark on the World Dairy Expo grounds had already heard Kaskaskia College be announced as the high team in Brown Swiss, Guernseys, Holsteins, Milking Shorthorns, and Red and Whites. Then, team members Savannah Rice and Sophie Leach were called as first and third, respectively, in the placings only portion of the contest. Rice had picked up high individual finishes in Jerseys and Red and Whites as well as second in Brown Swiss. Leach was first in Ayrshires, Brown Swiss, and Milking Shorthorns. Not to be outdone, their teammate Gage Wendling earned a blue ribbon in the Holstein breed among the 37 individuals that competed in the division this year.
Rice and Leach then took the top two spots, respectively, in the reasons division. They repeated that feat in the overall placings, with Rice totaling 11 more points than her teammate. For her part, Leach's total score was 29 points above SUNY-Cobleskill's Amber MacNeil in third.
So, it was not surprising when Kaskaskia, coached by Aaron Heinzmann, was announced as the winner of the 34th annual Post-Secondary Dairy Judging Contest by a margin of 110 points. This marks the fourth time the school has won that title, with the last victory coming just two years ago. They also earned the top team reasons score by 53 points. The team was completed by Gracen Hoffman, who earned top-five individual finishes in Brown Swiss and Guernseys.
Eleven teams competed in this year's contest, a healthy boost from last year's numbers. SUNY-Cobleskill finished in second, led by MacNeil finishing in third, Whitney Yerina (who topped the Guernsey breed) in ninth, and Mackinzie Meisner in eleventh.
Modesto Junior College, which won the other two breeds of Ayrshires and Jerseys, fell into third place by five points. Paris Cabral was the California team's highest individual, notching fourth.
Ohio State ATI was fourth overall. Northeast Iowa Community College rounded out the top five, with Kaylee Ferfecki from the team earning fifth overall.
In reasons, Modesto Junior College was second, and SUNY-Cobleskill was third. Ohio State ATI followed in fourth, and Northeast Iowa Community College finished fifth.
In addition to traditional judging and reasons, post-secondary students also have the opportunity to participate in a practical contest that includes linear evaluation, purchasing scenarios, and mating decisions. Modesto Junior College earned top honors for the commercial heifer evaluation scenario, while Ohio State ATI was best in the registered heifer portion. Kaskaskia was first in the linear evaluation.
Many award sponsors make the dairy judging contests possible, and in the post-secondary practical contest, one of those sponsors is Art Nesbitt, who generously provides cash prizes of $500 and $1,000 for the top two individuals in the linear evaluation. This year, Leach earned first place, and Rice was second.
Modesto Junior College was the overall winner among the seven teams that competed this year.
---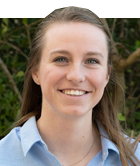 Katelyn Allen
Katelyn Allen joined the Hoard's Dairyman team as the Publications Editor in August 2019 and is now an associate editor. Katelyn is a 2019 graduate of Virginia Tech, where she majored in dairy science and minored in communication. Katelyn grew up on her family's registered Holstein dairy, Glen-Toctin Farm, in Jefferson, Md.