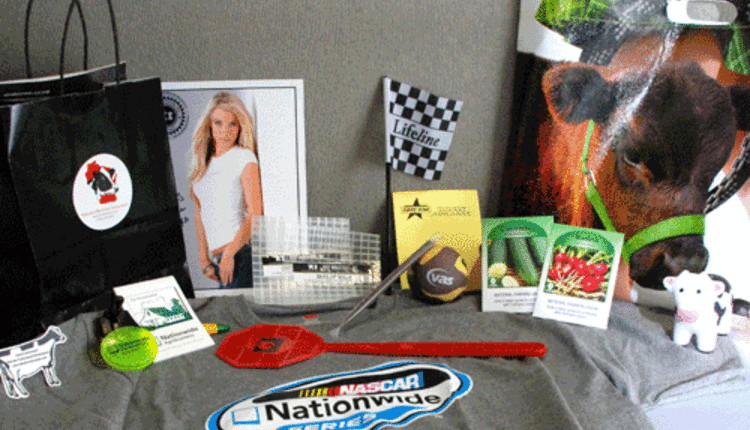 Trade shows and free stuff go together like playoff baseball in October. If you're in need of pens, tablets, stress balls, or tee-shirts, trade shows like World Dairy Expo are the place to be. This year is no exception, of course. The hot items of the year seem to be T-shirts. Many of them are in high demand (and short supply) to the extent that we couldn't find them during our early-afternoon stroll through the grounds.
Hot tee-shirt pickups include Nationwide Insurance (out on the trade mall, tee-shirt shown above), the outside Estrumate stand, and Clari-Fly.
Another trend is models, the human kind. A stop by Reef Industries, Inc., (right behind the Hoard's Dairyman booth in the coliseum) could get you a personalized autographed picture of Jackie. Ours even had a heart and "xoxo." At the Calfology.com booth (in the north end of the exhibit hall), a model is handing out what we'll deem the bag of the year due to its sturdiness, size, and color.
Other great pickups include fly swatters (Cotton, Inc - Exhibit Hall.), seeds (National Farmers Union-north end exhibit hall), stress balls, plus cows, and samples of product.
But the freebie of the year goes to the Wisconsin Milk Marketing Board. They are handing out a chocolate straw. You may say, I can by those at the store. But this straw is specifically designed to turn your white milk chocolate. Not only does it jazz up your white milk, but we think this could be a great giveaway (or thing to sell) to neighbors and friends to encourage milk consumption.
Got any more free finds? Let us know! Stay frugal, friends.