The National Dairy Shrine Museum. Hoard's Dairyman magazine. Nasco. The James Manufacturing Company. Jones Dairy Farm. The Hoard's Dairyman Farm. Too many impactful dairy farmers and cows to count.
These businesses, people, and animals represent a varied list of time periods and specialties, but they all share two things in common: they have made a difference in the dairy community, and they have planted their roots in Fort Atkinson, Wis.
Hoard's Dairyman has had its home in southeastern Wisconsin ever since W.D. Hoard moved here after the Civil War and began publishing his daily newspaper that gave rise to a dairy-focused magazine. He later established the Hoard's Dairyman Farm just over a mile from the publishing office to help further his statewide advocacy for improvements in dairy farming.
We are proud of our heritage here in Fort Atkinson, but we are far from the only piece of dairy history in town. That long legacy of dairy farmers and businesses that have made their impact in this area is why a group of Fort Atkinson community members came together this year to install fiberglass cow statues around town. Now that the cows have been put in place, the community has been buzzing — or rather, mooing — with talk of the cows.
These are not just any cows, though. With a goal of making the project both an attractive part of town and educational for visitors and non-farm residents, one cow was painted to represent each of the seven dairy breeds. Soon, they will have signage installed that highlights some of the characteristics of each breed. Local agricultural artist Larry Schultz painted the replicas to make sure each cow looked its most realistic.
He was also tasked with painting each breed representative as a specific animal from the Fort Atkinson area. Though a small locale, there is no shortage of impactful dairy cattle that have born, bred, or developed in Fort Atkinson. The Guernsey, for example, which was placed here at our Hoard's Dairyman office, is painted as Rolling Prairie Bella Blue, who was nominated for Global Guernsey Cow of the Year in 2015. The Holstein representative is Gene-Acres Felicia May Fury, the 1974 Supreme Champion at World Dairy Expo. That replica is located just a few yards from where the real Felicia May is buried on what was Crescent Beauty Farm.
The five other replicas painted as cows that share a special connection to Fort Atkinson are also located at businesses and organizations around town that have generously agreed to host them where they will be visible to the community and visitors alike. Cows can be found at Nasco, Jones Market, an ice cream shop, the Chamber of Commerce, and a bank.
Our committee hopes these replicas will serve as a beautiful reminder to our area's farmers and dairy community about their cows and the history they are still helping create today. At the same time, they have already opened up a dialogue with other community members about the dairy industry's history here. We are grateful to all the sponsors who helped make this "Cow Parade" possible!
If you are in the Fort Atkinson area or just passing through, come find and enjoy the seven cows that will help continue this dairy legacy for many years to come!
---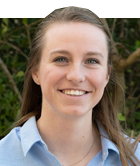 Katelyn Allen
Katelyn Allen joined the Hoard's Dairyman team as the Publications Editor in August 2019 and is now an associate editor. Katelyn is a 2019 graduate of Virginia Tech, where she majored in dairy science and minored in communication. Katelyn grew up on her family's registered Holstein dairy, Glen-Toctin Farm, in Jefferson, Md.