One of the dairy industry's best-known personalities, Doug Maddox, passed away this morning in his office after a massive heart attack. A vibrant person until his last day, Doug had a personality that simply caused people to gravitate to him. Doug was known around the globe as an outstanding businessman, a mentor to many young producers, and a person who had a deep respect for the Holstein cow. At last count, the family's dairies are believed to be home to the largest 100 percent registered Holstein herd in the United States.
Farming has always been in the Maddox's blood. The RuAnn prefix is a combination of his parents' names: Rufus and Annie. For the past 54 years, he grew the family enterprise, and together RuAnn and Maddox Dairies have over 5,000 registered Holstein cows, with over 12,000 total animals. Over the years, Doug and his family exported dairy cattle and semen to over 40 countries. To this day, they still harvest between 3,000 and 4,000 embryos each year. A gifted entrepreneur, Maddox also farmed 10,000 acres. Of that total, 5,000 acres is vineyards and almonds, with the remainder used as cropland for the dairy herd.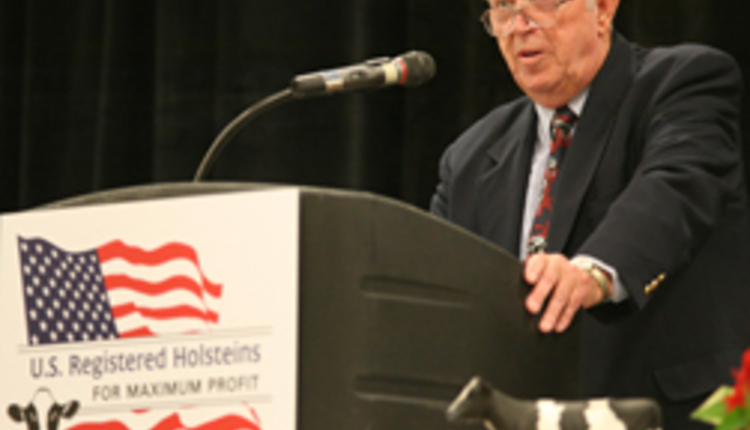 Doug dedicated a great deal of time to the industry. Just this summer he committed time to travel to Washington, D.C., to discuss pending dairy legislation with Senators and Representatives. As a leader, Doug gave guidance to many organizations including: the Riverdale District School Board, National DHIA, the California Department of Food and Agriculture State Board, the California Milk Marketing Producer Review Board, and Holstein Association USA. He is past president of both California DHIA and Holstein Association USA.
A long list of accolades has been bestowed on this giant of a man. They included the prestigious National Dairy Shrine Distinguished Cattle Breeder, Holstein USA Elite Breeder, World Ag Expo Outstanding Dairy Producer, and Cal Poly Outstanding Alumni in the School of Agriculture. He was also named Outstanding Young Breeder and Senior Breeder by the California Holstein Association.
Perhaps the thing Doug and his wife, Matilda, were both so proud of was the fact all their children are involved in the family business. Steve and his wife, Brenda, and son, Stephen, Jr., run Maddox Dairy. Patrick and his wife, Mary, manage RuAnn Dairy, while daughter Liz and her husband, Jamie Bledsoe, own and operate Golden Genes. Daughter Julie Chow serves a chief financial officer for the entire Maddox enterprise. Many of Doug and Matilda's grandchildren, who are enthusiastic dairy prospects, will no doubt follow in Grandpa's footsteps.
When Doug won the Holstein's Elite Breeder Award in 2010, he was quoted as giving this advice to young breeders, "Use common sense and be patient. Breeding registered Holsteins is a lifetime commitment - it's a marathon, not a sprint." Those words certainly fit Doug's approach to life. Our thoughts and prayers go out to the entire Maddox family.